Experience this undiscovered Camino
Fecha: 2018-06-14
Spain is More can offer a whole new trip this year on this fantastic Camino. Read more below and get inspired by a beautiful movie.
The Camino Lebaniego starts in the Cantabrian fishing village of San Vicente de la Barquera and ends in the monastery of St. Toribio, where a piece of the cross of Jesus can be seen - one of the world's most important Christian relics. Already along the sandy beaches of San Vicente you can see the mountains of the National Park Picos de Europa (the tops of Europe) and their snowy peaks on the horizon. The path follows the Nansa River to the south, over green hills and through lush forests. During the walking days you will pass pearls of fine villages where you can try local Cantabrian delicacies.
The closer you get to Picos de Europa, the more the terrain becomes more dramatic. Deep valleys, sharp rocks, crystal clear rivers - all this beauty can be observed from the viewpoints (Miradores) along the path.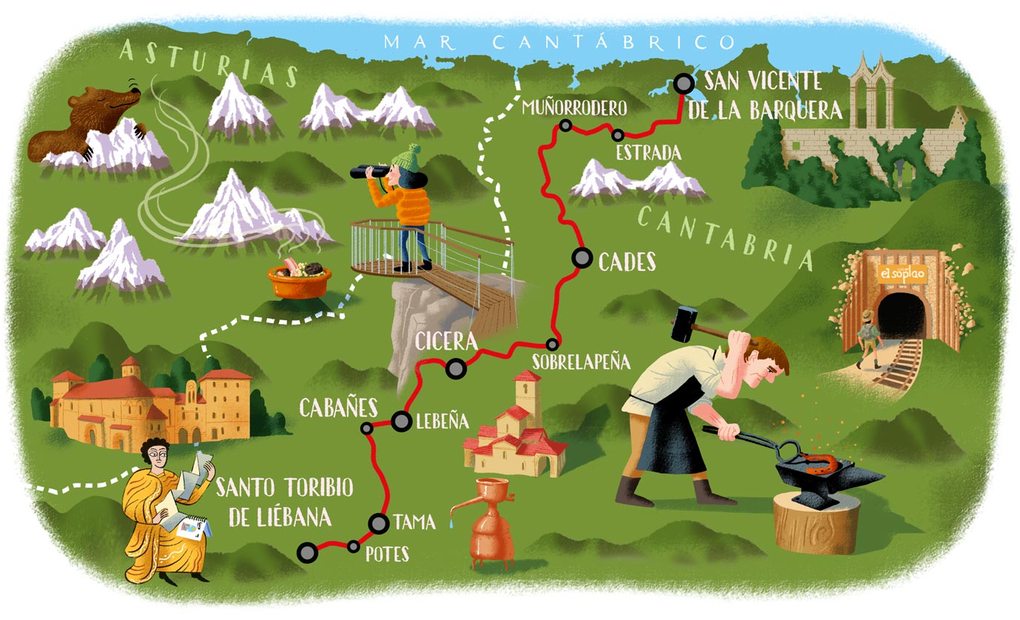 Why is Camino Lebaniego not as popular as the other pilgrim routes?
It is really not because of the lack of beauty because this pilgrimage is indescribably beautiful. It is rather due to the fact that there are not as many accommodations as on the Camino del Norte (the Northern coast) or Camino Francés (the French route). Thanks to our local knowledge, we can offer this route in charming hotels including breakfast. With our travel guide in your hand, the pilgrims get direct access to our local expertise and they can experience all the small details that form the golden edge of the journey.
Another advantage of the Camino Lebaniego is that it is a very flexible route - the route can easily be shortened or extended. On 4 walking days you can go from San Vicente to Potes, but it is also great to add two walking days (from Potes to Fuente Dé). In addition, you can choose to stay longer in great cities such as Bilbao or Santander, to enjoy the Guggenheim Museum or the beautiful beach life.
Be inspired by this short film. Although this short (2 min) YouTube film is in Spanish, it shows the beauty and charm of Camino Lebaniego in an excellent way. Get inspired:
Make sure that you experience this undiscovered Camino before everyone else is aware of this gem! Click here to read more about Camino Lebaniego and see our whole new walk.