24 hours in the life of a pilgrim
What does a day of a pilgrim look like?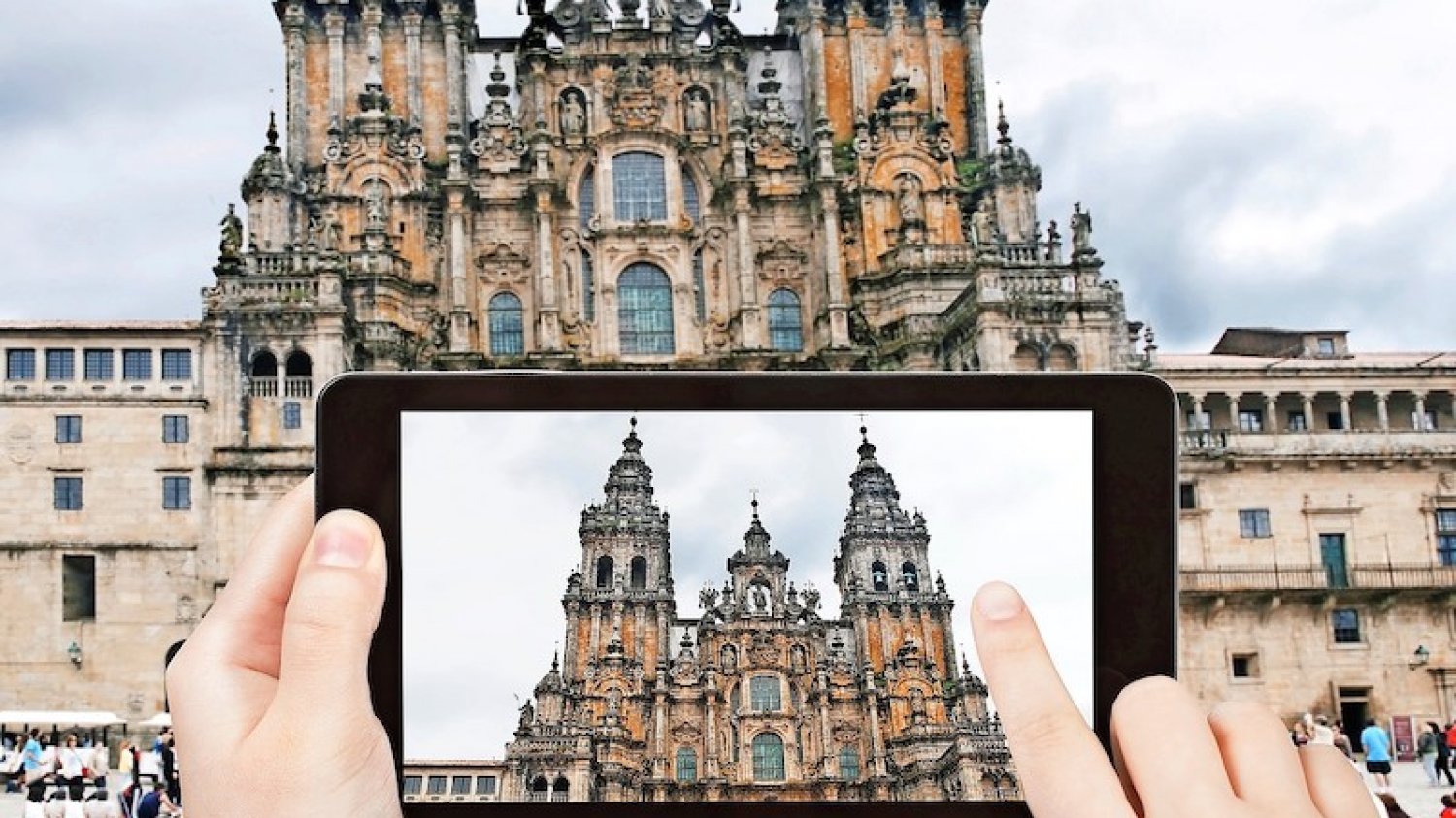 2020-02-21
You have always dreamed of walking or biking a camino. In your head you fantasize about what it would be like: your preparation, what to wear, how your feet will react and what you will experience along the way. But what do 24 hours in the life of a pilgrim really look like? What does he or she do in a day? You can read it in this blog about 24 hours in the life of a pilgrim.
7:00 am Morning rituals
The alarm goes off. Perhaps you have already been awake by the sound of other pilgrims leaving or you were still sleeping in your own room. Anyway, the day starts. You don´t have to think about what to wear, because on a pilgrimage counts: ¨The less, the better¨. After a splash of water in your face, you pack your luggage. After so many days on the camino, you know what the best way is to do that. It has become a routine! The socks on the left, the shoes on the right and finally your shampoo on top. After a good breakfast and a strong coffee (and they know how to make that in Spain!) you put on your walking shoes (or pack your bike) and start the day.
8.00 am The fog disappears
The morning hours are the most beautiful hours of the whole day. The fog that disappears, the sun that rises, the villages where everybody is slowly waking up and the sound of silence, you only hear the sound of nature. Perhaps the ´fog´ in your head literally disappears also, beause that Spanish wine that you drank with other pilgrims the night before tasted really good ;-).
It is still fresh, early in the morning. You greet other pilgrims with a friendly 'buen camino' and everyone answers with the same greeting and a big smile. You are not afraid of getting lost either. The camino is well marked with yellow arrows, you can´t miss them. And if you unexpectedly get of the road, everyone will help you to get back to the right route.
10:00 am Together
After walking alone for a while, you suddenly see a familiar face. It is Brian, with which you have been walking a few days before. Talking about life and the things that concern you and especially why you are on the camino and what it has brought you so far. You wonder every time about the special meetings on the camino. Pilgrims from all over the world, of all ages, all kind of backgrounds, together on the camino. Sharing stories with each other as true friends. After walking a few kilometers together, you settle down in one of the many bars for a café con leche.
12.00 am Strong body
After the coffee break you continue your camino. The sun is already high in the sky and it is getting warm. You look around to take a good look at the environment. You walk on a sand path, sometimes a tree on the left and right. The wind blows through your hair and here and there you see some other pilgrims around you. It is special that even in the summer it is still so green in northern Spain. And this combined with the yellow grain fields gives a beautiful view. You see that a climb is coming. How nice that you have your walking sticks with you, they give you extra support when climbing and descending and you have more balance (you can read here more about whether or not to bring walking sticks on the camino). However, after a week of walking you will climb this mountain in no time. Your body feels so strong! While sitting on a stone, you enjoy the beautiful view and continue your camino.
2:00 pm Take care of your stomach
After the descent you will arrive at your next overnight place. But first you need to take care of your stomach. Because you are pretty hungry! The rhythm in Northern Spain differs from that in most Northern European countries. And that means that most restaurants on the pilgrim routes open at 2 p.m. You settle down on the terrace and first order a caña con limon, you earned it! Caña con limon is a beer with a hint of bitter lemon. Wonderfully fresh when it's so hot! For your lunch you order a delicious boccata with chorizo ​​and cheese. And without you asking, they make it hot in the oven, enjoy!
4 pm Siesta
After lunch you check in at the hotel. You also ask if they can put a stamp on your pilgrim pass. In this pass you collect stamps to be able to prove in Santiago de Compostela that you have walked enough kilometers to receive your Compostela. Read here more about the pilgrim pass and the Compostela. After this it is time for a shower! Maybe you want to wash some clothes or just lie on your bed with a book. Anyway, the next 2 hours is siesta. In the warmest of the day, the shops and restaurants close, everyone stays in the cool houses and perhaps have a little nap. You decide to update your diary about the camino. You haven't written anything in a few days. Every day you write avbout where you left from and how many kilometers you have walked (or biked) and of course your adventures on the camino. After an hour you fall asleep...
6 pm Special experience
Everything slowly comes back to life and you decide to take a short walk through the village. In every village on the camino you will find at least a bakery, pharmacy, bar and a church. You hear from other pilgrims that a special service for pilgrims is being held in the church this evening at 7 p.m. and decide to go there. Even if you are not religious, everyone is welcome in this service. It is a special experience! Pilgrims are called forward and receive a special blessing to protect them on their pilgrimage to Santiago de Compostela.
8 p.m. The famous pilgrim menu
After the service you decide to eat together with other pilgrims. All restaurants on the camino offer a so-called pilgrim menu. A three-course menu, where you can choose from three different dishes in each course, is usually served with a bottle of wine and for a very reasonable price! During the meal many stories are shared about the camino, the beauty of a pilgrimage and pelgrims exchange tips about the route of the next day. Time flies….
22.00 Well-deserved rest
After this you go to your bed. But not before you have send a message to your family to let them know everything is fine. It was another beautiful day on camino, tomorrow a new day! Santiago de Compostela is getting closer and closer ...
I wish everybody could have at least one day on the camino!
Annemiek Nefkens
Happy Holiday Manager and camino expert
Ps. This description of a day in the life of a pilgrim is based on my own camino experiences. This can of course differ from any other experience and offers no guarantees for your future camino ;-)
Back