About us
Our Office

Our office is located in the heart of northwestern Spain, more specifically in León approx. 300 km north of Madrid.
The office is located in the main street of Leon's stunning old town. Its geographical location is perfect because we can both ensure proximity to our customers during their holiday stay, and because we are close to our partners. Thus, we have our fingers on the regions pulse in order to offer our customers the best deals and best experiences. Although we are in Spain, modern technology guarantees that we are easily accessible. And even though we are physically located in Spain, we have landline numbers to different countries so that you only pay rate as a local landline number. Furthermore, we are always available through Skype, chat or e-mail.
Philosophy
Our aim is turning your holiday in Northern Spain into a really special experience. Thanks to our deep knowledge of the area, we know hidden, secret and the most remarkable places, which "normal" tourists do not usually find.
We emphasize that the experience we offer is unique and that our guests experience the Spaniards' own Spain, whether you travel with our group trips or on your own by car, train, foot or bicycle.
Our group tours are followed either by English-speaking tour guides or local multilingual guides. On our drive-yourself trips, you will be at every moment assisted by our personalized travel guide in English, which describes your trip in detail and suggests the best restaurants, beaches, attractions and tours, including addresses to the pre-booked hotels, activities and more.
In Northern Spain, everything is possible regardless of your age. Let us know about your needs and wants, and we will design your dream vacation in Northern Spain.
More information:
Virginia

Co-owner, Administration Director and Manager for the English and Spanish spoken markets
Languages: Spanish, English and Danish.
My name is Virginia Fernandez de Vega and I am the founder and owner of "Spain is More". I was born and raised in León in Northern Spain and I am therefore your best guide to the region. Our office is located in the beautiful old part of León.
I have learned English from one year at a university in Scotland and many stays in USA. Furthermore, I have lived in Denmark for 6 years and I speak Danish as well.
I have organized many trips to Northern Spain for people who wanted to visit my fantastic home-area. All with a fantastic result and with lots of happy returning guests.
Such an unknown part of Spain has a lot to offer to foreign tourists, and Spain is More was created with the aim of helping people experience this wonderful corner of Spain.
The interest for holidays in Northern Spain has greatly increased and today we work closely with local tourist organizations and other stakeholders in the Northern Spanish tourist industry and we all have the same goal; granting our guests with a fantastic experience in Northern Spain.
We look forward to welcoming you in this undiscovered paradise.
Rasmus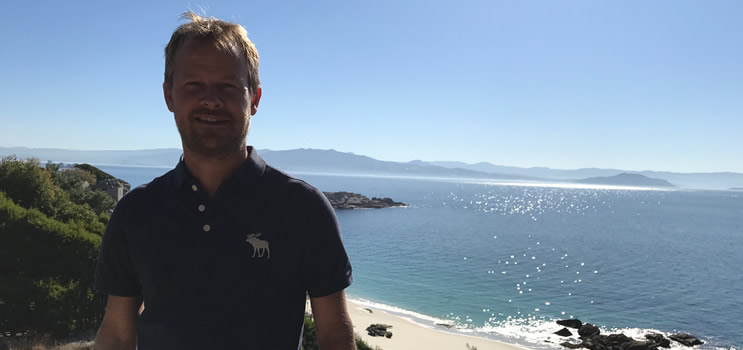 Co-owner and Sales and Marketing Director
Languages: Danish, English and Spanish.
Over the past 13 years I have visited Northern Spain on countless occasions. Since 2009 I have been living in León - in the north-western part of Spain. I like to take every opportunity to visit new parts of the area or increase my knowledge of already known destinations. This way we can continue to expand and update our extensive guidebook that our guests receive before their holiday.
Northern Spain will be able to satisfy even the most demanding guest because the area is incredibly varied. This fact also makes everyday fun, as the search for new destinations includes everything from visiting attractive beaches and high mountains to beautiful castles and historic towns. Not least, it includes visiting the best hotels in the region and trying out exciting activities to find the best solutions for our guests.
We only work with high quality places and we expect an extraordinary level of service from our partners, so that our guests will experience the very best of Northern Spain.
I look forward to hearing from you so that I can send you a proposal for your special holiday in Northern Spain.
Sofia

Administration and back office
Languages: Spanish and English.
My name is Sofia and I am responsible for the administration and bookings at Spain is More I will make sure everything is perfectly planned for your trip.
I really enjoy my job and I learn something new every day.
I was born in León where I also studied. During my university studies, I lived one year in Budapest and another one in England. I speak English and, of course, Spanish.
I love traveling and getting to know new cultures. The north of Spain is spectacular, and it never stops amazing me. I always go to visit new places when I have the time.
Waking the Camino was a very enriching experience for me, both personally and professionally. What I liked the most was meeting new people every day and sharing our life stories.
Louise

Happy Holiday Manager
I like to advise you in German, English or Spanish
Hello! My name is Louise. My heart brought me to Leon. It wasn't just my adorable husband that made me stay. I soon got to know every hidden corner of the still undiscovered beauty of the natural north of the country and could not leave it.
I have been living in Leon since 2010 and enjoy journeys of new discoveries again and again. The beguiling nature seems to be limitless in its revelations. As a result, I know how to advise customers well with individual requests.
Travelling alone, as a couple or with children, I always think of a good insider tip that makes every trip a personal highlight. Northern Spain offers a wide variety of opportunities to get excited about the area. Not only the stunning beaches and the hiking trails through the mountains impress with their incorruptible charisma, also the culinary side is a real treat for the palate.
Irene

Danish Market Manager.
Languages: Danish, Spanish, English
My name is Irene Ladegaard Jakobsen and I have worked in, and with Spain for the last 25 years. Spain is where I find my favorite holiday destinations, and I consider this country as my second home.
Since 2001, I have worked in Denmark as a travel consultant, travel producer and I have worked as tour guide around Andalusia. In addition, I have worked for many years with travel insurance, and I am happy to help with good advice for ordering the right travel insurance.
Among other things, I have work at the Spanish Tourist Office in Copenhagen. During this period, I have walked and cycled parts of the Camino de Santiago. I have also enjoyed the exquisite gastronomic experience that comes with trips to the Northern Spain. A couple of stays at the fantastic Parador hotels, have also been included during my holidays. I have been driven quite a few self-drive holidays across the country.
With residence in Denmark, I am employed by Spain is More as Marketing Manager for Denmark.
Anna

My name is Anna Deltinger and I'm from Malmö, Sweden.
I work with marketing, product development and sales mainly towards the Swedish market. I´m a certified travel consultant and have a broad experience of different kinds of travelling.
Above all, I have a huge passion for hiking and of exploring new cultures and environments. Working at Spain Is More gives me the opportunity to combine my passion with my work, designing tailor-made travel experiences and helping you to discover the amazing northern Spain. Whether hiking or cycling on the Camino de Santiago, exploring the beautiful mountain peaks of the Picos de Europa or a challenging holiday with many adventures, we will help you all the way. We also offer trips by car, giving you the opportunity to explore many still unexplored areas.
I feel privileged to contribute with my knowledge and passion for travelling and hiking which make me love my job. I look forward to planning your next trip to paradise!