The pilgrim mass and the Botafumeiro
The Pilgrim's Mass is every day at the Cathedral of Santiago at 12.00 and 19:30. As a symbol of welcome, mass begins with a reading of the list the pilgrims who have arrived in Santiago and that have claimed their Compostela within the last 24 hours. Besides their names their nationality and the place from which each pilgrim began, his/her pilgrimage is also read.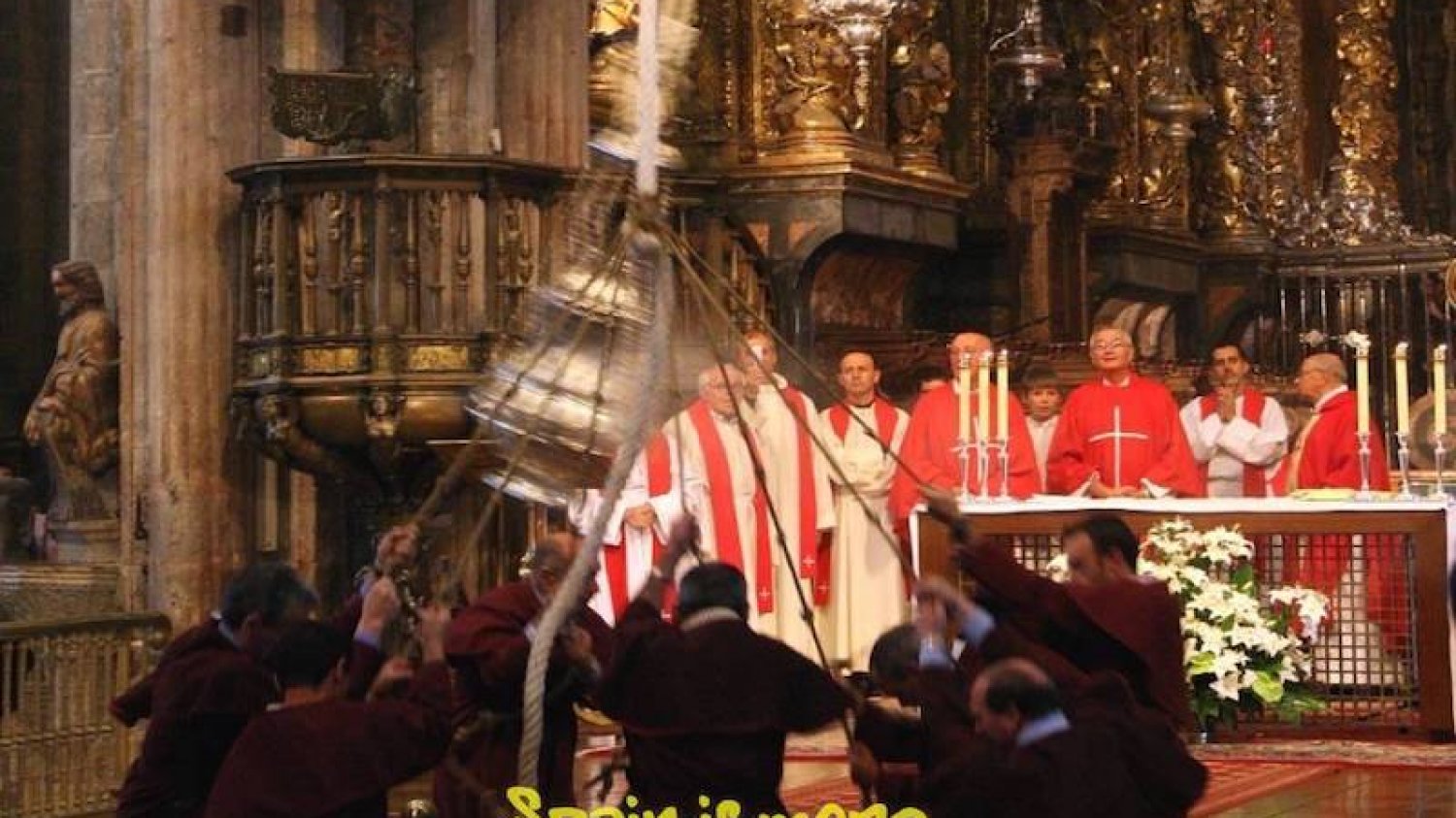 2023-06-08
Pilgrims Mass in the Cathedral of Santiago de Compostela.
During Holy Years, (when July 25th falls on a Sunday) the Botafumeiro (literally 'Smoke Spreader' in Galician) is one of the best known and popular symbols of the Cathedral of Santiago de Compostela. According to legend, the first temple censer was built for hygienic reasons during the eleventh century. In the Middle Ages, pilgrims, exhausted after finishing The Camino, congregated in the cathedral and to combat the accumulation of body odors, a breeding ground for epidemics, a large censer was commissioned. In the sixteenth century, thanks to a gift of King Louis XI of France, the medieval artifact was replaced by a new one, also of silver. The censer was stolen by Napoleon's troops in 1809 during the War of Spanish Independence. Therefore, the censer of Louis XI was replaced by the current and less ostentatious one in 1851. After 155 years of use, the Botafumeiro was restored in early 2006.
The Botafumeiro has an oscillating movement, up anddown the aisle of the Cathedral, operated by a pulley system pulled by eight men called tiraboleiros. The beginning and end of the oscillation is carried out by the main 'tiraboleiro', who is also the one who sets the pace.
The Botafumeiro weighs 53 kg and is one and a half meter tall. It rises to 20 meters high and can reach a speed of 70 kilometers per hour. The botafumeiro can be seen in the solemn masses (see times below). The rest of the days another lesser copy of the original is used and is known by the name of Artichoke.

The Botafumeiro operates during the following Solemnities:
The Epiphany: 6 January
Resurrection Sunday
The Apparition of the Apostle-Clavijo: 23 May
Pentecost
The Martyrdom of Saint James: 25 July
The Assumption of Mary: 15 August
All Saints: 1 November
Christ the King
The Immaculate Conception: 8 December
Christmas: 25 December
Transfer of the remains of the Apostle: 30 December
If none of these dates are viable, visitors also have the option to enjoy the spectacle of the Botafumeiro by requesting it in advance at the Pilgrim Office, or write an email directly to botafumeiro@catedraldesantiago.es. This option assumes a cost of 300-500 euros.
Days where the Botafumeiro is in function.
Back