Portuguese Camino by the Coast
The Way of Saint James Portuguese by the Coast Starting from Porto Walking
Camino Portugues: Túi - Santiago_Arzua - Santiago de Compostela05

Camino Portugues: Túi - Santiago_Arzua - Santiago de Compostela05

Camino Portugues: Túi - Santiago_Arzua - Santiago de Compostela06

Camino Portugues: Túi - Santiago_Arzua - Santiago de Compostela06

Camino Portugues: Túi - Santiago_Arzua - Santiago de Compostela07

Camino Portugues: Túi - Santiago_Arzua - Santiago de Compostela07

Camino Portugues: Túi - Santiago_Caldas de Reys - Padron2

Camino Portugues: Túi - Santiago_Caldas de Reys - Padron2

Camino Portugues: Túi - Santiago_Caldas de Reys - Padron3

Camino Portugues: Túi - Santiago_Caldas de Reys - Padron3

Camino Portugues: Túi - Santiago_Arzua - Santiago de Compostela03

Camino Portugues: Túi - Santiago_Arzua - Santiago de Compostela03

Camino Portugues: Túi - Santiago_Caldas de Reys - Padron1

Camino Portugues: Túi - Santiago_Caldas de Reys - Padron1

Camino Portugues: Túi - Santiago_Paredes de Coura - Tui2

Camino Portugues: Túi - Santiago_Paredes de Coura - Tui2

Camino Portugues: Túi - Santiago_Paredes de Coura - Tui1

Camino Portugues: Túi - Santiago_Paredes de Coura - Tui1

Camino Portugues: Túi - Santiago_Pontevedra - Caldas de Reys4

Camino Portugues: Túi - Santiago_Pontevedra - Caldas de Reys4

Camino Portugues: Túi - Santiago_Pontevedra - Caldas de Reys5

Camino Portugues: Túi - Santiago_Pontevedra - Caldas de Reys5

Camino Portugues: Túi - Santiago_Pontevedra - Caldas de Reys1

Camino Portugues: Túi - Santiago_Pontevedra - Caldas de Reys1

Camino Portugues: Túi - Santiago_Pontevedra - Caldas de Reys1

Camino Portugues: Túi - Santiago_Pontevedra - Caldas de Reys1

Camino Portugues: Túi - Santiago_Pontevedra - Caldas de Reys2

Camino Portugues: Túi - Santiago_Pontevedra - Caldas de Reys2

Camino Portugues: Túi - Santiago_Pontevedra - Caldas de Reys3

Camino Portugues: Túi - Santiago_Pontevedra - Caldas de Reys3

Camino Portugues: Túi - Santiago_Paredes de Coura - Tui2

Camino Portugues: Túi - Santiago_Paredes de Coura - Tui2

Camino Portugues: Túi - Santiago_Paredes de Coura - Tui1

Camino Portugues: Túi - Santiago_Paredes de Coura - Tui1

Camino Portugues: Túi - Santiago_Paredes de Coura - Tui4

Camino Portugues: Túi - Santiago_Paredes de Coura - Tui4

Camino Portugues: Túi - Santiago_Paredes de Coura - Tui3

Camino Portugues: Túi - Santiago_Paredes de Coura - Tui3

Best Beach in Portugal

Best Beach in Portugal

Portugal river

Portugal river

Galician watermills

Galician watermills

Cycling holidays along the Atlantic Ocean and Camino de Santiago

Cycling holidays along the Atlantic Ocean and Camino de Santiago
The Way of Saint James along the Portuguese Coast (El Camino de Santiago Portuguese por La Costa) has been known for centuries as an important religious and spiritual pilgrimage to Santiago de Compostela for pilgrims visiting the tomb of Saint James in the Cathedral of Santiago. After having being partially forgotten for many years, somewhat overshadowed by the French Camino de Santiago, this pilgrimage is now experiencing a near explosive interest over the last couple of years.
There may be various reasons for this, but probably the most important explanation is the truly unique experience it is in nature, to walk or cycle along the Atlantic Ocean. The Way of Saint James Portuguese by the Coast is therefore, not only a religious journey, but also a spiritual journey through some of the most magnificent natural scenery in Europe. This pilgrimage offers so many unique experiences, historical and as said, in nature, that travelling this route you will definitely have experienced the significance of being a pilgrim. It is no exaggeration to claim that no one arrives at Santiago de Compostela without being touched both physically and mentally by the magnificent experiences that await each pilgrim on this journey.
Your pilgrimage begins at the Cathedral Sé in Porto, in Porto's Old Quarter with its idyllic streets. Thereafter, you will follow the Duero River to its estuary at the Atlantic Ocean. After a beautiful farewell to Porto, you will walk along the Atlantic Coast, and with the exception of a few detours where the route takes you a little inland, you follow the Atlantic Ocean all the way to City of Vigo. At the end of the Bay of Vigo, you might have a melancholic moment, before saying farewell to the ocean, but you will also look forward to the new expereinces awaiting you as you continue your pilgrimage through the beautiful Galician countryside. On your journey through Spain's most north-western region, you will get to know the authentic Galicia as you pass through beautiful villages, try the famous Galician cuisine with its vast array of seafood, taste the exquisite Albariño wines, and of course, meet the local population and the hospitality shown there.
We have organised this pilgrimage in different stages, where you have the opportunity to hike, cycle or do a combination of both hiking and cycling.
✔Daily Departures all year round.
✔Hotel-to-Hotel Baggage Service is optional.
✔Your personal Pilgrim's Passport.
✔Specially Selected Hotels - always with private bathroom - selected for best location, service and authentic charm.
✔Spain is More Camino Guidebook (which you will receive some weeks before departure) contains practical pilgrim information, suggestions for packing list, recommended restaurants, maps of all cities along The Camino- and hotel location, Pilgrim's Passport/Credential, advice and guidance, service phone numbers and much more, all to make your trip on The Camino an experience of a lifetime!
✔This trip can be combined with other Camino routes.
✔Dividing stages: Yes, always!
✔Day trip to Finisterre.
The services are good along the entire stretch. You will pass through a number of largely populated areas, so that you can buy everything you need.
In the section, "detailed itinerary", you will find more detailed information of each stage, as well as maps of the profiles of each stage with photos.
Price




From 1.240 Euro/pers.

Km




276

Days




16 days / 15 nights

Difficulty


? NOTE: nowhere, in any Camino, will steep cliffs be found next to path!

1: Very easy. Flat and without significant gradients. Good and normally wide paths.

2: Easy. Slightly hilly. Good and normally wide paths.

3: Medium. Hilly, possibly with longer distances between service facilities/cities. Good, sometimes narrow paths.

4: Medium/Hard. Longer, steeper climbs, perhaps with few servicefacilities/cities. Good, sometimes narrow paths.

5: Hard. Long gradient(s), possibly few facilities. Very hilly. Good, sometimes narrow paths.
Description
To leave Porto the best way is by following the Duero River and the Atlantic Coastline. From the old part of the city you will travel along Portugal's amazing coast. On the first part of this Camino up until the Spanish border, you won't find many ascents and descents. There are only a couple of times, when you move inland to the Portuguse backcountry, that you might find your pulse working a little faster. But even so, the inclines don't last very long.
Most of the time you will travel along the wooden paths next to the Atlantic Coastline to the Spanish Border.
Once you have crossed the border and the Minho River, you will notice a difference in the landscape. This part of the Galician Coastline is rougher with rocks and only a few smaller beaches. But, you will be richly compensated with some breathtaking ocean and mountain views. On this part of your Camino journey you will follow the ocean all the way to one of the biggest fishing ports in the world, Vigo. From here the Camino route takes you inland and converges with the other Portuguese Camino in Redondela.
For a more detailed description of this Camino, please have a look at the itinerary for each day.
More information on Porto - Redondela
After getting to Redondela, the terrain provides slightly more incline than during the previous section. But, you will never climb higher than about 200m. After Ponteveda, you will find some stretches through the beautiful and green Galician woodland. Here the terrain rises and falls while you continue towards Santiago. It's an amazing section of the trip, where you will often pass by Galician vineyards.
More information on Redondela - Santiago
Detailed itinerary
Detailed itinerary (view all days )
Day 1.
- Arrival in Porto (Oporto)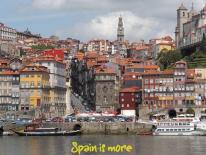 Arrival in Porto and check-in at hotel. The hotel is a 3-4-star hotel with a central location in the old city of Porto.
You will be free to dispose of the rest of the day on your own in this beautiful city. The historical core of the city is full of charm and was proclaimed a World Heritage Site by UNESCO in 1996. Interesting monuments, history, the beautiful location and not to mention the port, are some of the reasons why you should visit this city. An interesting visit that permits you in one day to walk the equivalent of one stage of the Pilgrimage Route.
Day 2.
- Porto – Perafita
20 Km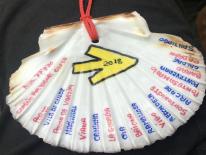 This is your first day, not only on your pilgrimage, but also on what might prove to be a whole new chapter in your life. This first stage is one of the longer ones; even though there are not many inclines during this stage, you should not begin your pilgrimage too late. We suggest you get your first pilgrim stamp at the Cathedral Sé, before heading off along the Duero River and later follow the impressive coastline of the Atlantic Ocean.
Distance: 20 Km
Day 3.
- Perafita - Povoa de Varzim
20 Km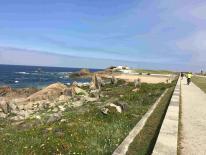 From the beach at Labruge, your hiking trail continues along magnificent beach areas, where the waves from the Atlantic Ocean are a major part of the almost meditative experience walking along the ocean. We suggest you take a break and maybe have lunch in the historic port city of Vila do Conde, before continuing to Povoa de Varzim.
Distance: 20 Km
Day 4.
- Povoa de Varzim - Esposende/Marinhas
24 Km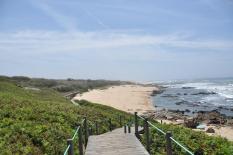 Another day with magnificent coastlines awaits you. Along with cosy cafés and views that you will never forget, today´s pilgrimage takes you to Esponsende. This is also one of your longer stages, so get started in the morning, giving yourself enough time for lunch and maybe a dip in the refreshing Atlantic Ocean during this amazing hike to Esposende.
Distance: 24 Km
Day 5.
- Esposende/Marinhas - Viana do Castelo
21 Km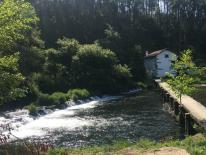 Heading on from Esposende, your hike now enters the countryside where you will walk through beautifully maintained villages and experience Portugal in an authentic manner. On this stage you will also have had your first inclines, so maybe the day will end with your legs a little sorer. When you arrive at Viana do Castelo you should explore and enjoy the Old Town, which is beautifully renovated with the usual Portuguese feel for the details and respect for their history.
Distance: 21 Km
Day 6.
- Viana do Castelo – Caminha
27 Km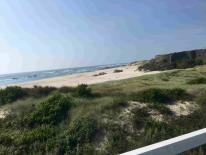 From Viana do Castelo you will follow the coastline, which you probably will notice, has changed as you approach Spain. The many beach areas have now changed into a rockier coastline, where the waves have carved the rocks into amazing sculptures. This part of your pilgrimage does not have many inclines, but is nonetheless relatively long. Before arriving at Caminha, take a break at one of the beaches. Find yourself a comfortable spot on the beach or on one of the rocks, take a look over the ocean, listen to the waves that never stop pulsing and then take a deep breath and recall the last days' incredible pilgrimage. In other words, take time to say goodbye to Portugal before the next chapter on your pilgrimage takes you across the border to Spain.
Distance: 27 Km
Day 7.
- Caminha – Oia
22 Km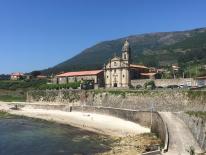 This part of your pilgrimage has a special element as you take the ferry between Portugal and Spain. Even though crossing the River Minho takes no more than 20 minutes, there is still something special about crossing the border between Portugal and Spain in this way. Once in Spain you will definitely notice the change along the coastline, as the Galician shoreline seems to have a beautiful roughness to it.
When you get to Oia go visit the Mosterio de Santa Maria de Oia, founded in the mid-12th century. It is one of the few monasteries in Europe with a location right next to the Ocean. This stage offers varied terrain and takes you between the main road and the Atlantic Ocean.
Distance: 22 Km
Day 8.
- Oia – Baiona
18 Km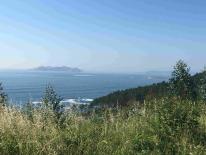 From Oia, your journey continues to the picturesque coastal town Baiona. One of the main attractions in Baiona is the impressive fortress, Castillo de Montereal, whose foundation dates back to the 12th century. Baiona has great historical significance for Spain, as this was where the first news of "The New World" in America was delivered by Martín Alonso Pinzón in 1493. The nightlife in Baiona is extensively varied in restaurants, cafes and bars. So, if your pilgrimage not has been too hard on you so far, we suggest you spend a pleasant evening on the town before your next stage towards Vigo.
Distance: 18 Km
Day 9.
- Baiona – Vigo
22 Km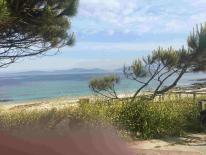 This stage offers you the opportunity to choose between two different routes. You can either take the traditional Camino that leads you into the countryside, through beautifully forested areas, historic monuments and great views of the Atlantic Ocean. Another option is the "new" Camino, which follows the coast and runs along some of the beautiful beaches, that the local Spaniards like to visit during the summer. This route has fewer inclines, but also some slightly longer parts where you walk along the main road. The distance is roughly the same for both routes.
Distance: 22 Km
Day 10.
- Vigo - Redondela
16 Km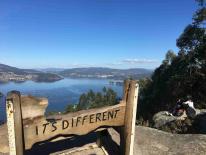 Today you will follow paths along the authentic Galician countryside. At first, the Camino follows a beautiful route along "La Ruta de Aqua" with stunning views to the Bay of Vigo. Once you have left Vigo, there are not many sevices.
Distance: 16 Km
Day 11.
- Redondela - Pontevedra
20 Km
Today you will have a few climbs on your way to Pontevedra, but you will also be walking through the very heart of Galicia! Along the way you will get to see the famous stone crosses (Cruceiros), which for centuries have guided and protected pilgrims on their way to Santiago. Several of these small masterpieces are dated back to the 15th century. When you reach Pontevedra, you can visit various churches, monasteries and monuments of the city, go shopping in the city's old quarter (Casco Viejo), or enjoy the vibrant nightlife and the many excellent restaurants - and of course, taste a glass of the local Albariño white vine.
Distance: 20 Km
Day 12.
- Pontevedra - Caldas del Reis
22 Km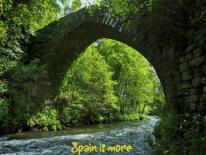 After leaving Pontevedra's Old Town Centre, the route quickly takes you to one of the most beautiful sections of this part of the Camino. Among other things, you will pass the area of Barro with absolutely wonderful waterfalls, and later Briallos, the latter leading you through scenic vineyards of Galicia. In Caldas de Reis you will have the opportunity to enjoy one of the many thermal baths which Galicia is famed for.
Distance: 22 Km
Day 13.
- Caldas del Rey - Padrón
19 Km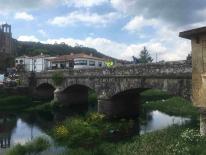 Today you arrive at Padrón, the next most important pilgrimage city after Santiago de Compostela. According to ancient legend, the Apostle Saint James is said to have preached on the Iberian Peninsula. The tradition has that after being beheaded in the year 44 AD, the body of Saint James arrived by boat to the Galician coast navigated by two of his disciples from the city of Jaffa in Palestine. From here, his corpse was carried to Padrón, because the Apostle James is said to have preached at Monte de Santiaguiño. In Padrón, a long and very beautiful stairway leads along the Mosterio Convento do Carmen to this sacred place that is definitely worth a visit. The route to Padrón is as beautiful as the former pilgrimage route, and there is an overall special atmosphere in the small town of Padrón, with its mere 3,000 inhabitants.
Distance: 19 Km
Day 14.
- Padrón - Santiago de Compostela
25 Km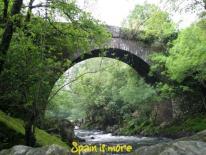 This is the last of your 13 pilgrim's stages towards Santiago de Compostela. Whether it is your first pilgrimage, or you have done it several times, you will undoubtedly notice a very unique contrast of excitement while feeling an unexplained serenity throughout your body, both at the same time the closer you come to Santiago.
The route from Padrón to Santiago starts with some walking along the road, but soon you get back to the small and charming paths and dirt roads, which you know so well from the previous days. About seven kilometres from Santiago, you can see the Cathedral's two iconic spires for the first time, and from here there is only path to reach your goal of arriving to Santiago.
When you enter the Plaza de Obradoiro in front of the Cathedral, which may already be filled with happy, tired and redeemed pilgrims, you will most likely see some others you have met on your way to Santiago. Perhaps, you have made new friends along the way, and maybe, you will find that these friendships will grow stronger and evolve over time – Buen Camino!
Distance: 25 Km
Day 15.
- Santiago de Compostela and Finisterre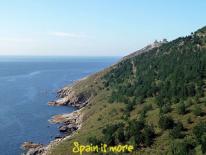 True pilgrims often continue further on and finish their journeys in Finisterre. The tour goes by bus with an English-speaking guide from Santiago to Finisterre in the morning and returns mid-efternoon to Santiago. Just off the stunning, rugged coastline and the fabled "Costa de la Muerte" (Death Coast), a reef filled with shipwrecks and tales of legends captures this raw, natural beauty. At the coast's westernmost point is Finisterre – meaning the world's end. The Romans named this coast in such a way because it was literally the end of their known world. For many pilgrims this is the symbolic endpoint of the pilgrimage.
The evening is spent in Santiago de Compostela.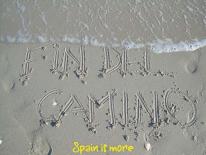 What is included in this trip?
From 1.240 Euro/pers. Per person in shared doubleroom
Single room supplement:350 Euro
It includes
15 nights in a double room - always with private bath/toilet.
15 x breakfast.
The price includes 1 Spain-is-More-Travel Guidebook per booked room.
Pilgrim Passport / Credencial.
24/7 emergency telephone number.
Taxes.
Not included
Some short local bus or taxi journeys, e.g. from airport to bus or train station in the same city.
City tax in Porto. 2€/person/night.
Optional
Personalise your Camino: Extended stays, divide stages, transportation to startingpoint from anywhere in the world and back. Please ask us, we will be happy to assist you.
Baggage Transport on the pilgrim route can be purchased. If you buy a luggage service your bag / suitcase will be transported from hotel to hotel on the scheduled days of hiking. Price 150 €/unit of max 20 kg.
Extension of stay in Porto, Santiago or elsewhere. We recommend you to spend an extra night in Porto before starting your Camino journey. This vibrating city offers a vast varity of gastronomic and cultural experiences. We also recommend you to spend two nights in Vigo or Baiona so you can sail to the "Islas Atlánticas natural park" and experience this amazing place. Ask for further information.
The price include 1 Spain-is-More-Travel Guidebook per every 4 travellers. More copies can be purchased when booking (20€/copy).
Cancellation insurance: 6% of total price (can be added when ordering).