Bit by bit along the Green Coast
8-days sensational self-drive holiday through Basque country, Cantabria, Asturias and Picos-de-Europa mountains
Holiday in Bilbao with Spain is More

Holiday in Bilbao with Spain is More

Holiday in Bilbao with Spain is More

Holiday in Bilbao with Spain is More

Un poco de todo en Cantabria y el País Vasco_San Sebastian Pinchos

Un poco de todo en Cantabria y el País Vasco_San Sebastian Pinchos

Un poco de todo en Cantabria y el País Vasco_San Sebastian

Un poco de todo en Cantabria y el País Vasco_San Sebastian

Un poco de todo en Cantabria y el País Vasco_Picos de Europa

Un poco de todo en Cantabria y el País Vasco_Picos de Europa

Un poco de todo en Cantabria y el País Vasco_Picos View

Un poco de todo en Cantabria y el País Vasco_Picos View

Un poco de todo en Cantabria y el País Vasco_Beach Northern Spain

Un poco de todo en Cantabria y el País Vasco_Beach Northern Spain

Un poco de todo en Cantabria y el País Vasco_Beautiful beaches

Un poco de todo en Cantabria y el País Vasco_Beautiful beaches

Un poco de todo en Cantabria y el País Vasco_Bufones

Un poco de todo en Cantabria y el País Vasco_Bufones

Un poco de todo en Cantabria y el País Vasco_Llanes

Un poco de todo en Cantabria y el País Vasco_Llanes

Un poco de todo en Cantabria y el País Vasco_Playa Active Holiday

Un poco de todo en Cantabria y el País Vasco_Playa Active Holiday

Un poco de todo en Cantabria y el País Vasco_Playa Costa Verde

Un poco de todo en Cantabria y el País Vasco_Playa Costa Verde

Un poco de todo en Cantabria y el País Vasco_Spanien bedste strande

Un poco de todo en Cantabria y el País Vasco_Spanien bedste strande
Expect plenty of mother nature's treasures as well as cultural sites combined with fabulous mountain and sea activities. Treasure the impressive mountain range "Picos de Europa", breathtaking beaches, picturesque villages and aristocratic cities — the tour gives a taste of the best of northern Spain for both eyes, mouth and soul!

- You will typically arrive to Bilbao airport (flight not incl.), where the car will be picked up (carrental incl.)
- Spain is More can arrange your flight to/from Bilbao (surcharge). In case of arrival to another airport, the itinerary can be changed.

Price




From 645 EUR/pers.

Km




0

Days




8 days / 7 nights

Difficulty


? NOTE: nowhere, in any Camino, will steep cliffs be found next to path!

1: Very easy. Flat and without significant gradients. Good and normally wide paths.

2: Easy. Slightly hilly. Good and normally wide paths.

3: Medium. Hilly, possibly with longer distances between service facilities/cities. Good, sometimes narrow paths.

4: Medium/Hard. Longer, steeper climbs, perhaps with few servicefacilities/cities. Good, sometimes narrow paths.

5: Hard. Long gradient(s), possibly few facilities. Very hilly. Good, sometimes narrow paths.
Description
Detailed itinerary
Detailed itinerary (view all days )
Day 2.
- Day 1: Arrival to Bilbao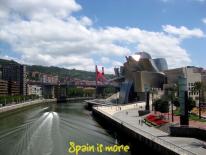 During the afternoon or the next morning (depending on your time of arrival), you will visit the Guggenheim Museum (entry included in the price) and you can visit the Old Town in Bilbao and enjoy its marvelous "pinchos," a small snack, typically eaten in bars, traditional in northern Spain and especially popular in the Basque country and Navarre.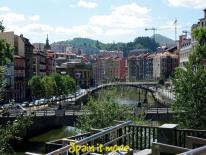 Bilbao is the largest city in the Basque Country. Compared to elegant San Sebastian, Bilbao had always been considered the ugly sister. Things changed, however, when American architect Frank Gehry chose Bilbao as the home of the Guggenheim Museum, which gives Bilbao a magnificent, modern and futuristic feel. Besides the museum, there is another unmistakable thing about Bilbao, its food. Basque cuisine is the culinary mecca of Spain, with the highest concentration of Michelin-starred restaurants in the world.
Day 4.
- Day 3 and 4: Llanes (Asturias)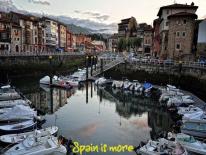 ⇒(Bilbao - Llanes, 180 km, 2h)
Accomodation: charming hotel in city center close to beach.

Llanes is one of the cosiest and most atmospheric fishing villages on the Spanish north coast. The beaches and the idyllic old town which winds around the harbor, are among the reasons for the popularity. The large selection of good restaurants will contribute to many exciting flavors.

On the trip from Bilbao to Llanes, passed a lot of interesting sights. Among other things, the beautiful coastal town of Comillas, where you can see one of Gaudi's architectural masterpieces, and Santillana del Mar, which is considered one of Spain's most beautiful villages, is like a museum with stone-paved streets and houses, churches, etc. The several thousand year old cave paintings in Altamira is also close to this end.

The area is ideal because the town offers an ample opportunity for sightseeing, shopping and relaxation. Along the coast, a number of attractive swimming and fishing villages offer lovely restaurants that serve local delicacies. Furthermore, you will find world famous architecture, impressive zoos and some of Spain's most spectacular National Parks.
Day 5.
- Day 5 and 6: Picos de Europa (Cantabria)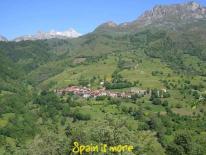 ⇒(Llanes - Picos de Europa, 80 km, 1h,20m)
Accommodations: gem of a rustic hotel in Liébana Valley

The Liébana valley in the Picos de Europa mountain range provides a wide range of physical and natural riches to explore. In the hidden mountain villages, time seems to stand still, and you are transported to a bygone era. There are ample opportunities for hiking and other activities in the valley or in the awe-inspiring mountain peaks.

The dramatic cable car in Fuente Dé elevates guests 750 vertical meters (2,460 vertical feet) to a panorama of sublime mountain peaks over 2,600 meters (8,500 feet) high. The small town of Potes is the region's center, where delightful, cozy restaurants serve local specialties that can also be purchased in many quaint shops. The region's foremost cultural monument is among the most important Catholic monasteries in the world, Santo Toribio de Liébana.
Relax by the sound of the lazy river rippling by one of the valley's best hotels and survey the surrounding mountains. The hotel is renowned for its charm, and its kitchen serves heavenly local cuisine.
Day 6.
- Day 7: San Sebastian (Basque Country)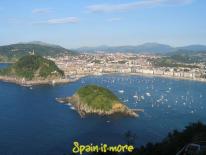 ⇒(Picos de Europa - San Sebastian, 290 km, 3h,30m)
Accommodations: Charming B&B in the old town.

In the eastern part of the Basque Country we find Spain's cosmopolitan and gastronomic center — San Sebastian — a wonderful town that successfully blends traditional and modern. This urban hub is one of the hottest culinary destinations in the world, and the Basque Country boasts a high concentration of Michelin Star restaurants. In fact, one main attraction of this stunning city is its exquisite cuisine and atmosphere. The extensive white sandy beaches and its urban texture make San Sebastian a popular holiday destination.
Day 7.
- Day 8: Departure from Bilbao
Breakfast and end of tour.
What is included in this trip?
From 645 EUR/pers. Per person in a double room
Single room supplement:180 EUR
It includes
7 x nights in double room in stunning hoteles selected for their quality, location and authentical charme.
7 x breakfast.
Rented car all days. Category: Ford Fiesta or similar (inclusive unlimited mileage, taxes and basic insurance). Upgrade when more than 3 pax.
The price includes 1 Spain-is-More-Travel Guidebook per every 4 travellers. More copies can be purchased when booking for 20€ per copy, or 30 euros per copy if the request is less than 6 weeks prior to departure.
Entrence to Guggenheim.
24/7 emergency telephone number.
Taxes.
Optional
Personalise your trip: Extended stays, transportation to startingpoint from anywhere in the world and back, add interesting and authentic experiences etc. Please ask us, we will be happy to assist you.
Carrental: Please, ask for price, if you prefer a different category.
The price include 1 Spain-is-More-Travel Guidebook per every 4 travellers. More copies can be purchased when booking for 20€/copy, or 30 euros/copy if you ask for it with less than 6 weeks prior to departure.
Cancellation insurence: 6% of total price (can be added when ordering).