Camino del Norte by Bicycle (Gijon-Santiago)
(Bike stages: 11-16): 9 days, 347 km's (342 miles) wonderful bike-tour along the Green Coast
Camino del Norte: Gijón - Ribadeo_Gijón - Avilés2

Camino del Norte: Gijón - Ribadeo_Gijón - Avilés2

Camino del Norte: Gijón - Ribadeo_Gijón - Avilés3

Camino del Norte: Gijón - Ribadeo_Gijón - Avilés3

Camino del Norte: Gijón - Ribadeo_Gijón - Avilés4

Camino del Norte: Gijón - Ribadeo_Gijón - Avilés4

Camino del Norte: Gijón - Ribadeo_Avilés - Muros de Nalón Cudillero1

Camino del Norte: Gijón - Ribadeo_Avilés - Muros de Nalón Cudillero1

Camino del Norte: Gijón - Ribadeo_Avilés - Muros de Nalón Cudillero2

Camino del Norte: Gijón - Ribadeo_Avilés - Muros de Nalón Cudillero2

Camino del Norte: Gijón - Ribadeo_Avilés - Muros de Nalón Cudillero3

Camino del Norte: Gijón - Ribadeo_Avilés - Muros de Nalón Cudillero3

Camino del Norte: Gijón - Ribadeo_Avilés - Muros de Nalón Cudillero4

Camino del Norte: Gijón - Ribadeo_Avilés - Muros de Nalón Cudillero4

Camino del Norte: Gijón - Ribadeo_Muros de Nalón - Soto de Luiña1

Camino del Norte: Gijón - Ribadeo_Muros de Nalón - Soto de Luiña1

Camino del Norte: Gijón - Ribadeo_Muros de Nalón - Soto de Luiña2

Camino del Norte: Gijón - Ribadeo_Muros de Nalón - Soto de Luiña2

Camino del Norte: Gijón - Ribadeo_Muros de Nalón - Soto de Luiña3

Camino del Norte: Gijón - Ribadeo_Muros de Nalón - Soto de Luiña3

Camino del Norte: Gijón - Ribadeo_Muros de Nalón - Soto de Luiña4

Camino del Norte: Gijón - Ribadeo_Muros de Nalón - Soto de Luiña4

Camino del Norte: Gijón - Ribadeo_Muros de Nalón - Soto de Luiña5

Camino del Norte: Gijón - Ribadeo_Muros de Nalón - Soto de Luiña5

Camino del Norte: Gijón - Ribadeo_Soto de Luiña - Villademoros1

Camino del Norte: Gijón - Ribadeo_Soto de Luiña - Villademoros1

Camino del Norte: Gijón - Ribadeo_Soto de Luiña - Villademoros2

Camino del Norte: Gijón - Ribadeo_Soto de Luiña - Villademoros2

Camino del Norte: Gijón - Ribadeo_Soto de Luiña - Villademoros3

Camino del Norte: Gijón - Ribadeo_Soto de Luiña - Villademoros3

Camino del Norte: Gijón - Ribadeo_Soto de Luiña - Villademoros4

Camino del Norte: Gijón - Ribadeo_Soto de Luiña - Villademoros4

Camino del Norte: Gijón - Ribadeo_Playa Costa Asturias

Camino del Norte: Gijón - Ribadeo_Playa Costa Asturias

Camino del Norte: Gijón - Ribadeo_Villademoros - Luarca1

Camino del Norte: Gijón - Ribadeo_Villademoros - Luarca1

Camino del Norte: Gijón - Ribadeo_Villademoros - Luarca2

Camino del Norte: Gijón - Ribadeo_Villademoros - Luarca2

Camino del Norte: Gijón - Ribadeo_Villademoros - Luarca3

Camino del Norte: Gijón - Ribadeo_Villademoros - Luarca3

Camino del Norte: Gijón - Ribadeo_Villademoros - Luarca4

Camino del Norte: Gijón - Ribadeo_Villademoros - Luarca4

Camino del Norte: Gijón - Ribadeo_Luarca - Ribadeo Puerto

Camino del Norte: Gijón - Ribadeo_Luarca - Ribadeo Puerto

Camino del Norte: Gijón - Ribadeo_Luarca - Ribadeo

Camino del Norte: Gijón - Ribadeo_Luarca - Ribadeo

Camino del Norte: Gijón - Ribadeo_Luarca- Ribadeo1

Camino del Norte: Gijón - Ribadeo_Luarca- Ribadeo1

Camino del Norte: Gijón - Ribadeo_Luarca- Ribadeo2

Camino del Norte: Gijón - Ribadeo_Luarca- Ribadeo2

Camino del Norte: Gijón - Ribadeo_Luarca- Ribadeo3

Camino del Norte: Gijón - Ribadeo_Luarca- Ribadeo3

Camino del Norte: Gijón - Ribadeo_Luarca- Ribadeo4

Camino del Norte: Gijón - Ribadeo_Luarca- Ribadeo4

Camino del Norte: Gijón - Ribadeo_Playa de las Catedrales

Camino del Norte: Gijón - Ribadeo_Playa de las Catedrales

Camino del Norte: Gijón - Ribadeo_Playa de las Catedrales1

Camino del Norte: Gijón - Ribadeo_Playa de las Catedrales1

Camino del Norte: Gijón - Ribadeo_Playa de las Catedrales2

Camino del Norte: Gijón - Ribadeo_Playa de las Catedrales2

Camino del Norte: Gijón - Ribadeo_Playa de las Catedrales3

Camino del Norte: Gijón - Ribadeo_Playa de las Catedrales3

Camino del Norte: Ribadeo - Santiago de Compostela_Ribadeo - Vilanova1

Camino del Norte: Ribadeo - Santiago de Compostela_Ribadeo - Vilanova1

Camino del Norte: Ribadeo - Santiago de Compostela_Ribadeo - Vilanova2

Camino del Norte: Ribadeo - Santiago de Compostela_Ribadeo - Vilanova2

Camino del Norte: Ribadeo - Santiago de Compostela_Vilanova - Abadin1

Camino del Norte: Ribadeo - Santiago de Compostela_Vilanova - Abadin1

Camino del Norte: Ribadeo - Santiago de Compostela_Vilanova - Abadin2

Camino del Norte: Ribadeo - Santiago de Compostela_Vilanova - Abadin2

Camino del Norte: Ribadeo - Santiago de Compostela_Vilalba1

Camino del Norte: Ribadeo - Santiago de Compostela_Vilalba1

Camino del Norte: Ribadeo - Santiago de Compostela_Vilalba - Seixon1

Camino del Norte: Ribadeo - Santiago de Compostela_Vilalba - Seixon1

Camino del Norte: Ribadeo - Santiago de Compostela_Vilalba - Seixon2

Camino del Norte: Ribadeo - Santiago de Compostela_Vilalba - Seixon2
This trip offers a fantastic and varied cycling holiday along the Camino del Norte. This trip starts in the port city of Gijón, in the quaint Old Town, full of tapas' restaurants and authentic Spanish atmosphere. From here, the Camino del Norte heads along the stunning north coast through some of Northern Spain 's most beautiful fishing and seaside villages. Here you'll find some of Spain's most attractive beaches, which you can enjoy, including the famous Playa de las Cathedrals, whose price includes transport to and from. The area is sparsely populated with extremely charming towns, beaches and culture that will satisfy everyone.
After Ribadeo the Camino del Norte steers into the countryside at which time the trip will become a bit hillier to Santiago de Compostela.
On this Pilgrimage by bicycle you will experience stages 11 to 16 of the 16 Camino-del-Norte stages on bicycle to Santiago.
Make your trip personal! Spain is More offers and guarantees the following on this trip:
✔ Daily Departures from Marts to November.
✔ Hotel-to-Hotel Baggage Service is included.
✔ Your personal Pilgrim's Passport.
✔ Specially Selected Hotels - always with private bathroom - selected for best location, service and authentic charm.
✔ Spain is More Camino Guidebook (which you will receive some weeks before departure) contains practical pilgrim information, suggestions for packing list, recommended restaurants, maps of all cities along The Camino- and hotel location, Pilgrim's Passport/Credential, advice and guidance, service phone numbers and much more, all to make your trip on The Camino an experience of a lifetime!
✔ Dividing stages: Yes, always!
✔ Day trip to Finisterre.
✔ Including renting our wonderful Camino Mountain-bikes.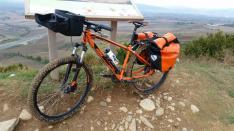 Price




From 875 EUR/pers.

Km




347

Days




9 days / 8 nights

Difficulty


? NOTE: nowhere, in any Camino, will steep cliffs be found next to path!

1: Very easy. Flat and without significant gradients. Good and normally wide paths.

2: Easy. Slightly hilly. Good and normally wide paths.

3: Medium. Hilly, possibly with longer distances between service facilities/cities. Good, sometimes narrow paths.

4: Medium/Hard. Longer, steeper climbs, perhaps with few servicefacilities/cities. Good, sometimes narrow paths.

5: Hard. Long gradient(s), possibly few facilities. Very hilly. Good, sometimes narrow paths.
Description
In the first stages of this route from Gijon/Aviles there are some ups and downs. A couple of them include a stretch of 2-3 km. After passing this stage the challenge is the valleys with their rivers and lakes. On this stretch the wind plays an important role since it will be rather easy if you have it at your back, but much more difficult if you are facing the wind for this part of the route.
The stages are divided by difficulty; the hardest is the shortest stage and the easiest is the longest. In the section "stages you will find more detailed information about each stage, such profile maps of the stages and photos.
Service functions are good throughout the length of the route. In the towns or cities where you'll be lodging there are always restuarants and other services, such as banks, supermarkets...etc.
Possibility of dividing stages: Yes. See description of the stages.
More information on Gijón - Ribadeo
In Ribadeo you will leave the coast behind and you won't see the sea again after this point. The terrain on this stretch is easy; it's not flat, but the ascents are normally short. The stages are complicated to divide, making the route more difficult that it really is.
In the section "stages you will find more detailed information about each stage, such profile maps of the stages and photos.
Service functions are limited throughout the length of the route, something you will have to take into account before leaving each day.
In the towns or cities where you'll be lodging there are always restaurants and other services, such as banks, supermarkets...etc.
Possibility of dividing stages: Yes, some. See description of the stages.
More information on Ribadeo - Santiago de Compostela
Detailed itinerary
Detailed itinerary (view all days )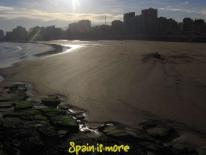 Arriving at the beautiful coastal-, bathing- and port city, Gijón. A big city with nearly 300,000 inhabitants, a long promenade for evening walks and a lively old town, where the sidra is flowing ... it is certainly recommended to take an extra night if you are into shopping, tapas, authentic Spanish atmosphere, delicious restaurants, good beaches and much more ....
Day 2.
- Gijon - Cudillero
48 Km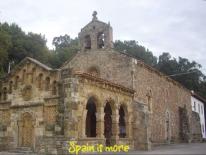 The first miles of this stage goes through the suburbs of Gijón before reaching the soft, green hills that will characterize much of this trip. The route you will experience today does not follow the coast, but cuts a pretty much straight line from Gijón to Avilés, where you will spend the night.

Avilés is primarily known for its cultural center, which was designed by the famous Brazilian architect Oscar Niemeyer. The city also has a nice old town.
Distance: 48 Km
Day 3.
- Cudillero - Luarca
47 Km
You leave Cudillero behind and start a new day traveling along well-marked dirt paths. You will cross numerous minivalleys (Ballotas)
This is a relatively hard stage with ups and downs but, in turn, is also one of the most beautiful segments between Avilés and Ribadeo.
At the entrance to Luarca, before going down to the port, it is advisable to go on to the hermitage of Our Lady the White, located in the Watchtower and next to the singular cemetery of the locality. It is a viewpoint with extraordinary views.
Once in Luarca, we recommend you to visit the fishing district of Cambaral, the Cemetery and the Church of Santa Eulalia.
Distance: 47 Km
Day 4.
- Luarca – Ribadeo
55 Km
There isn't a lot of uneven travel in today's stage. The itinerary moves you away from the sea on this first part of the Camino. It is a flat stage as you entering Galicia and you have two possible routes: the one through the interior, the Official Way, and the Coast Route. Both are well marked/signposted.
We explain in detail both routes in the guidebook that Spain is More sends you days before your trip, so you can choose the one you want and get to know the details of the area. We recommend the Coastal Route because so much of it passes through beautiful coastal areas.
Once you are in Ribadeo, you will have time to visit the Cathedrals Beach, one of the most beautiful beaches in Northern Spain. Your trip includes transportation there from the hotel.
Distance: 55 Km
Day 5.
- Ribadeo – Vilalba
75 Km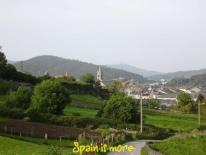 Today's stage is a turning point in the North Road: on the one hand, you are definitively moving away from the coast; and, on the other hand, you will regain a mountainous route, in a rural environment with livestock around you and where the territory is sparsely populated.
The ups and downs are mostly smooth and are present throughout the entire stage. At the height of Lourenzá and Mondoñedo there is a small mountain range with an approximate difference of 200 meters. Starting at Mondoñero, you ascend gradually up to 600 meters above sea level.
Mondoñero is a small town that houses one of the most beautiful cathedrals on the Northern Route. You will also see monasteries and other monuments.
In Galicia, unlike Asturias, you will find lots of "Horreos" as you walk along the Camino.
After almost finishing the stage, the route becomes easy and pleasantly smooth.
Once in Villalba, we recommend the visit to the Tower of the Andrade, converted into a Parador de Turismo, where you will spend the night.
Old and stately, this is the Vilalbés Municipality, with a rich cultural heritage that displays the historical personality of these lands. Castros, churches or pazos were built in these places and are witnesses to a time past loaded with legends and histories. Next to its history, the restaurants with the exquisite Galician food are right behind.
Distance: 75 Km
Day 6.
- Vilalba – Sobrado
58 Km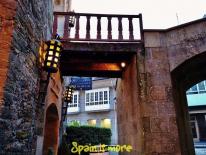 The beginning of the stage is simple, and is similar to yesterday. The slopes are quite scarce. During the day you'll see several very picturesque villages where you'll breathe peace and tranquility. There are lots of forests, open fields and plains.
Arriving at the end of the stage, you'll experience more unevenness along the route advancing toward solitary and unpopulated areas.
The cultural jewel of today's stage is the impressive Cistercian Monastery of Santa María, in Sobrado. It is also known as "Sobrado dos Monxes", a singular building directly linked to the road of Santiago and the routes of the Peninsular North and in July 2015 it was declared a World Heritage Site by UNESCO.
Distance: 58 Km
Day 7.
- Sobrado – Santiago de Compostela
64 Km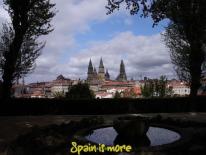 Today the Camino del Norte ends at the French Comino at Arzúa.
Whether you have started the Camino in Irún or have completed part of the Camino del Norte, the number of pilgrims you will see from now on until you arrive in Santiago will amaze you. You'll meet people during the rest of the Camino from all over the world with whom you'll have the opportunity to visit and share experiences.
Today's stage is comfortable, without any problems. The landscape mainly consists of eucalyptus forests and meadows.
The end of this stage is met with a great feeling of excitement. Everyone now "sees" the goal and that creates a mood of joy and tranquility.
Upon your arrival in Santiago you may want to carry out a series of important rituals of the traditional pilgrimage. All thes details are described in the Spain is More Guidebook.
You will need to wake up early if you want to go to the Pilgrim's Mass in the Cathedral of Santiago that is officiated every day at 12hr.
The Pilgrim's Office is located a few meters away from the Cathedral. There you will be sent the Compostela once they prove, with the stamps of the credential, that you have cycled the last two hundred kilometers.
The City of Santiago is full of charm with numerous cozy streets where you can taste the delicious Galician cuisine. It is a city full of atmosphere, a perfect to get to know any time of the day. The charm of Santiago's Old Town is hard to match. The cathedral is surrounded by the city's historical center, a World Heritage Site. Finally, be sure to notice the city's monuments, which are true works of art of different architectural styles.
Distance: 64 Km
Day 8.
- Santiago de Compostela and Finisterre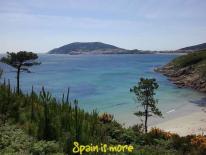 True pilgrims continues further and finish their journeys in Finisterre. The tour goes by bus with an English-speaking guide from Santiago to Finisterre in the morning and returns mid-efternoon to Santiago. Just off the stunning, rugged coastline and the fabled "Costa de la Muerte" (Death Coast), a reef filled with shipwrecks and tales of legends captures a raw, natural beauty. On the coast's westernmost point is Finisterre – meaning the world's end. Romans named this coast because it was literally the end of the known world. For many pilgrims this is the symbolic endpoint of the pilgrimage.
The evening is spent in Santiago de Compostela.
Day 9.
- Departure from Santiago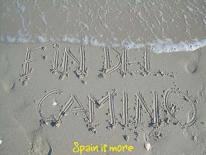 End of pilgrimage. Return from Santiago de Compostela.
What is included in this trip?
From 875 EUR/pers. Per person in a double room.
Single room supplement:220 EUR
It includes
8 nights in a double room - always with private bath/toilet.
8 x breakfast.
Excursion to 'Playa de la Catedrales'.
Bicycle Rental.
Luggage transport from hotel to hotel.
The price includes 1 Spain-is-More-Travel Guidebook per every 4 travellers. More copies can be purchased when booking for 20€ per copy, or 30 euros per copy if the request is less than 6 weeks prior to departure.
Pilgrim Passport / Credencial.
Guided Tour to Finisterre.
24/7 emergency telephone number.
Taxes.
Not included
Some short local bus or taxi journeys, e.g. from airport to bus or train station in the same city.
Optional
Personalise your Camino: Extended stays, divide stages, transportation to startingpoint from anywhere in the world and back. Please ask us, we will be happy to assist you.
The price include 1 Spain-is-More-Travel Guidebook per every 4 travellers. More copies can be purchased when booking (20€/copy).
Cancellation insurence: 6% of total price (can be added when ordering).