150 km from Ponteseco to Finisterre along the Costa de la Muerte
Camino dos Faros_Light house route - Cabo-Tourinan

Camino dos Faros_Light house route - Cabo-Tourinan

Camino dos Faros_Light house route - Cabo-Vilan-Camarinas

Camino dos Faros_Light house route - Cabo-Vilan-Camarinas

Camino dos Faros_Light house route - Castelo-de-Vimianzo

Camino dos Faros_Light house route - Castelo-de-Vimianzo

Camino dos Faros_Light house route - Praia-de-Balares-Ponteceso

Camino dos Faros_Light house route - Praia-de-Balares-Ponteceso

Camino dos Faros_Light house route - Praia-Nemina-Muxía

Camino dos Faros_Light house route - Praia-Nemina-Muxía

Camino dos Faros_Light house route 2

Camino dos Faros_Light house route 2

Camino dos Faros_Light house route 3

Camino dos Faros_Light house route 3

Camino dos Faros_Light house route_faro-laxe

Camino dos Faros_Light house route_faro-laxe

Camino dos Faros_Light house route_muxia

Camino dos Faros_Light house route_muxia

Camino dos Faros_Light house route_path

Camino dos Faros_Light house route_path

Camino dos Faros_Light house route_praia-de-rostro

Camino dos Faros_Light house route_praia-de-rostro

Camino dos Faros_Light house route_praia-do-trece

Camino dos Faros_Light house route_praia-do-trece

Camino dos Faros_Light house route_puntanariga

Camino dos Faros_Light house route_puntanariga

Camino dos Faros_Light house route_road

Camino dos Faros_Light house route_road

Camino dos Faros_Light house route_sancenon

Camino dos Faros_Light house route_sancenon

Camino dos Faros_Light house route_strand

Camino dos Faros_Light house route_strand

Camino dos Faros_Light house route_view

Camino dos Faros_Light house route_view
Description
The Camino dos Faros (Lighthouse Way) is a lovely hiking route in Galicia that links Malpica with Finisterre along the coastline, a route that includes all the lighthouses and most important landmarks in A Costa daLa Costa de la Muerte Morte (Coast of Death), where it is definitely the sea that plays the main role.
This Camino Dos Faros is not a pilgrimage route, per se, as its name might imply, but it is the perfect route for all those who want to experience La Costa da Morte (Coast of Death). You can walk this route from March / April to October.
Spain is More organizes this trip from Ponteceso due to the infrastructure of the route: 150 km of sensations ahead of you to reach Finisterre.
The Camino dos Faros runs through a myriad of different landscapes while always looking out West towards the sea. Lighthouses, beaches, dunes, rivers, cliffs, forests, estuaries with a great variety of birds, "castros" ("hill-forts"), dolmens, fishing villages, viewpoints from where one can enjoy the sea breaking from every vantage, sunsets and more.
This is a hiking route different from any other, and one that will take the hiker into a world full of unique sensations only enjoyable on this Costa da Morte.
"This Camino has everything:
authentic atmosphere,
picturesque villages
and stunning nature"
Camino dos Faros stretches through impressive scenery along one of Europe's most amazing coastal stretches. Moreover, it's charged with a special energy and unequaled atmosphere that many a hiker would love to find.

If you would like to experience the excitement of a route that is still relatively undiscovered while enjoying some moderate physical challenges compensated by absolute peace and quiet then...

Camino dos Faros is perfect for you!
And we give you here 8 more reasons why you should walk the Camino dos Faros.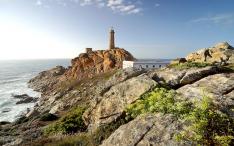 Price




From 625 Euros/pers.

Days




8 days / 7 nights
Detailed itinerary
Detailed itinerary (view all days )
Day 1: Arrival in Ponteseco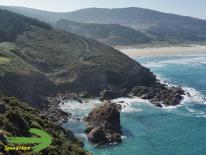 After arriving at the Santiago Airport you will be picked up by our driver, who will take you directly to Ponteseco, a lovely fishing village and the starting point for Camiño dos Faros.
Day 2: Ponteceso - Laxe (26 km)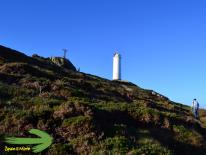 The first stage of Camino dos Faros starts at the bottom of the Estuary of Anllons and then later goes inland a few kms., so that you're able to visit both a dolmen and castro, Dolmen Dobate and Castro A Cibda de Borneiro, two types of our ancestral constructions , as well as two villages with archaeological excavations from the Iron Age, all of which testify to the area's ancient history. Afterwards, you'll climb Monte Castelo de Lourido, the highest point of Camino dos Faros, from which point you'll descend again to the estuary to enjoy the spectacular coastline full of enchanting beaches, inviting you to take a rest or even a swim.
Half of this stage is uphill but with some segments along the road that make the trek easier.
Difficulty: Easy
Day 3: Laxe - Arou (18 km)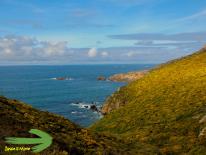 This is the shortest and possibly smoothest stage on the journey. It begins at the Faro (Lighthouse) de Laxe, from where there are panoramic views of the Corme River. From here the coast becomes quite wild and the waves begin to break with greater force. A small path will lead you along the coast until you reach Arou. In this stage there are two lovely places you must stop: Playa de los Cristales and Peñon de Soesto.
Since there is no possibility of accommodation in Arou, you have transportion to Camariñas, where you will spend the night. The next morning you will return to Arou (both transports are included in the price).
Difficulty: Easy
Day 4: Arou - Camariñas (23 km)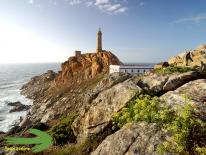 During this stage you walk through the heart of Costa da Muerte (Coast of Death), whose dramatic name is said to have originated from the countless shipwrecks, hidden beneath the sea's surface, and the many people who have lost their lives due to the sea's fury, often fooled by the hidden rocks and undercurrents. The second, more 'romantic' theory of how the coast got its name is the fact that it's where the 'sun dies' (sets) every night, being the westernmost point known in this hemisphere for hundreds of years and believed to be the End of the World (Finisterrae). Regardless of the origin, the coast is spectacular and at this stage you'll be able to view all its splendour. From Monte Branco you have a breathtaking view. The stage ends at the magical spot, Cabo Vilán Lighthouse, in Camariñas.
Difficulty: moderate

Day 5: Camariñas - Muxia (32 km)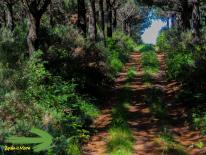 This stage is the longest of Camino dos Faros, but it is also completely flat terrain and you also have more segments along the road than usual. Today you will travel through the Camariñas Estuary with softer landscapes than those of the previous days and you can expect to see beautiful villages. The stage ends at the idyllic fishing village of Muxía, known for its ideally situated church, Virxe da Barca Santuary, which extends out on smooth rocks facing the open sea.
It is possible to divide this long stage over 2 days.
Difficulty: Easy
Day 6: Muxia - Lires (26 km)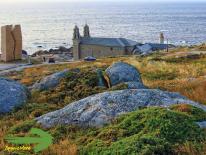 This stage is the most demanding on Camiño dos Faros, mainly at the beginning, and you should take it calmly. You will climb various hills, from where you'll be able to see the whole route from the heights, before descending to the Praia de Moreira. From here, the stage softens until the Touriñán Lighthouse, the westernmost point of the Spanish Peninsula. The end of the stage is Lires. Camino dos Faros follows the Camino de la Costa rather than the route of the Camino de Santiago de Finisterre. If you want to make your stage easier you can follow Camino de Finisterre instead.
Difficulty: Hard
Day 7: Lires - Finisterre (26 km)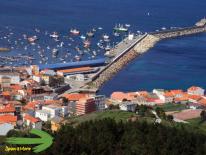 This is the last stage of the Camino dos Faros, which doesn't mean it's the easiest. In fact, it will be one of the most complicated since you'll walk past a multitude of cliffs, beaches and mountains, like Monte do Facho. (We remind you that this route it not the same as the Camino Finisterre, although you can choose the latter as an alternative, if you wish for a shorter and easier stage. We don't recommend it, however, because by doing so you will miss out on the incredible landscape and amazing scenery this stage of Camino Dos Faros has to offer).
Once you arrive to your hotel in Finisterre, you can take a rest or lunch and stay at the hotel before heading to the last lighthouse, the mythical lighthouse in Finisterre. Pilgrims from around the world travel here to mark the end of their camino walk to Santiago de Compostela.
Difficulty: Hard
Day 8: Return home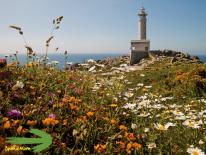 From Finisterre, you will take the bus back to Santiago from where you will return home the same afternoon (we will have enclosed the timetable, but the ticket itself can only be purchased at the bus).
It is possible to add an extra night in Santiago. Sometimes it may even be necessary if your return flight departs from Santiago before 13:00 (1 p.m.)
What is included in this trip?
From 625 Euros/pers. Per person in a doubleroom
Single room supplement:240 Euros
It includes
7 nights in a double room - always with private bath/toilet.
7 x breakfast.
Transport from Santiago de Compostela airport directly to hotel in Ponteseco.
Local transfer by taxi from Arou to Camariñas (and return).
The price includes 1 Spain-is-More-Travel Guidebook per every 4 travellers. More copies can be purchased when booking for 20€ per copy, or 30 euros per copy if the request is less than 6 weeks prior to departure.
24/7 emergency telephone number.
Taxes.
Not included
Some short local bus or taxi journeys, e.g. from airport to bus or train station in the same city.
Bus from Finisterre to Santiago (you can buy the tickets in the bus). We provide the hours of departure.
Optional
Personalise your Camino: Extended your stay with a day in Santiago, transportation to startingpoint from anywhere in the world and back. Please ask us, we will be happy to assist you.
Baggage Transport on the pilgrim route can be purchased. If you buy a luggage service your bag / suitcase will be transported from hotel to hotel on the scheduled days of hiking. Price 100 €/unit of max 20 kg.
Extension of stay in Madrid, León and Santiago de Compostela can be purchased.
The price include 1 Spain-is-More-Travel Guidebook per every 4 travellers. More copies can be purchased when booking for 20€/copy, or 30 euros/copy if you ask for it with less than 6 weeks prior to departure.
Cancellation insurence: 6% of total price (can be added when ordering).