Barcelona and the Pyrenees
3 Days in Barcelona and 3 days experiencing the Pyrenees staying at beautiful Parador Hotels
Barcelona y Pirineos_05-Viella 4

Barcelona y Pirineos_05-Viella 4

Barcelona y Pirineos_06-Bielsa 6

Barcelona y Pirineos_06-Bielsa 6

Barcelona y Pirineos_05-Bielsa 5

Barcelona y Pirineos_05-Bielsa 5

Barcelona y Pirineos_04-Viella 3

Barcelona y Pirineos_04-Viella 3

Barcelona y Pirineos_04-Bielsa 4

Barcelona y Pirineos_04-Bielsa 4

Barcelona y Pirineos_03-Bielsa 3

Barcelona y Pirineos_03-Bielsa 3

Barcelona y Pirineos_03-Viella 2

Barcelona y Pirineos_03-Viella 2

Barcelona y Pirineos_02-Vielha

Barcelona y Pirineos_02-Vielha

Barcelona y Pirineos_02-Bielsa 2

Barcelona y Pirineos_02-Bielsa 2

Barcelona y Pirineos_07-Camp Nou, Barcelona.

Barcelona y Pirineos_07-Camp Nou, Barcelona.

Barcelona y Pirineos_08-Barcelona web

Barcelona y Pirineos_08-Barcelona web

Barcelona y Pirineos_09-Puerto de Barcelona

Barcelona y Pirineos_09-Puerto de Barcelona

Barcelona y Pirineos_01-Bielsa

Barcelona y Pirineos_01-Bielsa

Barcelona y Pirineos_01-Seo de urgel

Barcelona y Pirineos_01-Seo de urgel

Barcelona y Pirineos_01-Vielha

Barcelona y Pirineos_01-Vielha

Barcelona y Pirineos_05-Casa Batlló, Barcelona.

Barcelona y Pirineos_05-Casa Batlló, Barcelona.

Barcelona y Pirineos_03-Fuente, Barcelona.

Barcelona y Pirineos_03-Fuente, Barcelona.

Barcelona y Pirineos_02-La Pedrera, Barcelona web

Barcelona y Pirineos_02-La Pedrera, Barcelona web

Barcelona y Pyrenees. Barcelona

Barcelona y Pyrenees. Barcelona

Barcelona y Pirineos_01- Parc Güell, Barcelona web

Barcelona y Pirineos_01- Parc Güell, Barcelona web

Barcelona y Pirineos_07-Parador de Viella.Web

Barcelona y Pirineos_07-Parador de Viella.Web

Barcelona y Pirineos_08-Parador de Viella. web

Barcelona y Pirineos_08-Parador de Viella. web
Description
Discover Barcelona! Its buildings, culture, gastronomy and people.... an amazing, wonderful city in every way! On this trip you are able to combine a route through the Pyrenees containing some of the most beautiful national and natural parks of Northern Spain, while getting to know Barcelona, sleeping first in a strategically located hotel in Barcelona and later in three magnificent "Paradores."
It's unusual to find such a unique trip that combines a getaway to a great city like Barcelona together with the enjoyment of singularly beautiful nature route.
Barcelona - Seo de Urgel: 173km. (2h and 20 min.)
Seo de urgel - Viella: 124 km. (2h and 10 min.)
Vielha - Bielsa: 139 km. (2h and 10 min.)
Bielsa - Barcelona: 338km. (3 hours and 30 minutes)
Price




From 580 Eur/pers.

Days




7 days / 6 nights
Detailed itinerary
Detailed itinerary (view all days )
Day 1-3: Barcelona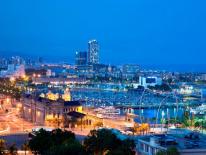 Barcelona has become one of the most visited tourist destinations in Spain with great reason. It's is ​​located between the sea and the mountains and has found a formidable balance: One foot is in tradition and another in modernity, giving it the reputation of being the most cosmopolitan, avant-garde and progressive city in Spain.
Barcelona is unforgettably full of art, culture and beauty. The works of Gaudí, museums, concerts, the FC Barcelona football team and countless other things make this city special and unique.
Nowadays in the city, you can walk along the Ramblas enjoying the street musicians, take the tram to take to the top of the Tibidabo from where there are magnificent views of the city, walk the Paseo de Gracia to see the best known shops of in Barcelona, ​​see a sunset from a beach bar on the beach of Barceloneta, and then go out for tapas and drinks to bars in the Barri Gotic.
In Barcelona there is always something to see: Jewels of Modernism and contemporary architecture, markets to thrill the senses, treasures from the ancient Roman and medieval era ... and if you do not want to see anything at some point, you can simply enjoy and breathe in the city's wonderful and cosmopolitan atmosphere.
Day 4: Seo de Urgel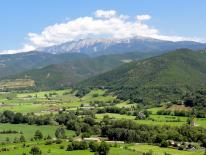 Seo de Urgel is in the Catalan Pyrenees at the confluence of the rivers Valira and Segre and with the spectacular mountain range of Cadí to the southeast.
Here you will find forests, rivers, mountains and landscapes that will not cease to amaze you.
Don't miss the Cathedral and Cánones Street, with its arcades and shops.
You'll also find the Olympic Park of the Segre, a place to practice sports like canoeing and rafting.
Furthermore, the natural park Cadí-Moixero offers stretches of land of incomparable beauty and natural heritage to discover on foot.
Day 5: Viella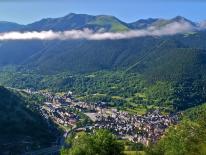 On the journey from Seo to Viella you will discover the beauty of the Pyrenee Mountains.
Due to its privileged situation, Viella has been the point of convergence of all communication of Val d'Aran since very remote times.
The great amount of nature of Valle is at every step for the traveler's pure enjoyment. The backbone of the main valley is the river Garonne that courses through the center with its tributaries that contribute not only waters here, but also to other lateral valleys. For that reason this beautiful corner of the Pyranees has justifiably been named Val d'Aran (Valley of Valles).
Since you're already in the Aran Valley the Romanesque Route it's recommendable, as well, discovering places like Bossòst, Era Mair de Diu dera Purificación, Salardú, with the Church of Sant Andrèu, and Arties with the Church of Santa Maria. In addition, the National Park of Aigüestortes and the Estany de Sant Maurice will offer you the immense beauty of nature.
Viella is one of the most important cultural attractions of the valley. It is also a complete service center whose economic activity is largely geared towards tourism.
Day 6: BIelsa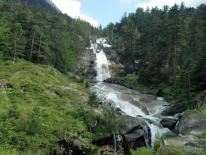 Today you will go to Bielsa, a place of authentic beauty located at the gates of the National Park of Ordesa and Monte Perdido. It's a National Park declared a World Heritage Site by UNESCO, where, regardless of the season, autumn, winter, spring or summer, will offer you unforgettable moments, colors, scents, landscapes that you will remember the rest of your life.
Bielsa is a very beautiful mountain village. Its rural houses, and some historical jewels like the Romanesque Hermitage of Our Lady of Pineta make its historical center an extremely charming place. In Bielsa, it is also advisable to visit the Ethnological Museum and the nearby town Ainsa (Plaza Mayor, Castle, Church of Santa Maria).
Here, nature in its purest form offers ample possibilities for practicing sports. The rivers make their way through rocky canyons creating a paradise for canyoning, and canyon descent. Mountain biking or trekking routes are another option not to be discarded. The landscapes that offer the Waterfall of the Cinca or Lake MarboréRoute route are spectacualar.
What is included in this trip?
From 580 Eur/pers. Per person in a double room
Single room supplement:250 Eur
It includes
6 nights: 3 nights in Barcelona and 3 nights in Pyrenees
6 x breakfasts
4 days car rental - Category: Ford Fiesta, Renault Clio or similar (inclusive unlimited mileage, taxes and basic insurance)
The price includes one Spain-is-More-Travel Guidebook per every 4 travellers. More copies can be purchased when booking for 20€ per copy, or 30€ per copy if the request is less than 6 weeks prior to departure.
24/7 assistance and help.
Departure on Fridays - It could be different some weeks in summer (Ask us for further information)
Optional
Personalise your trip: Extended stays. Please ask us, we will be happy to assist you.
Extension of stay in Barcelona or elsewhere can be arranged.
The price include one Spain-is-More-Travel Guidebook per every 4 travellers. More copies can be purchased when booking for 20€/copy, or 30 euros/copy if you ask for it with less than 6 weeks prior to departure.
Cancellation insurence: 6% of total price (can be added when ordering).