Active holiday in Northern Spain with four fun challenges
Discover the world below surface, walk through rivers and surf beautiful beaches
Viaje de aventura con amigos o con familia_Espeologia Valporquero

Viaje de aventura con amigos o con familia_Espeologia Valporquero

Viaje de aventura con amigos o con familia_Espelogia Valporquero

Viaje de aventura con amigos o con familia_Espelogia Valporquero

Viaje de aventura con amigos o con familia_Espeologia Caving

Viaje de aventura con amigos o con familia_Espeologia Caving

Viaje de aventura con amigos o con familia_Kayak Canoa

Viaje de aventura con amigos o con familia_Kayak Canoa

Viaje de aventura con amigos o con familia_Leon Cathedral

Viaje de aventura con amigos o con familia_Leon Cathedral

Viaje de aventura con amigos o con familia_Picos de Europa

Viaje de aventura con amigos o con familia_Picos de Europa

Viaje de aventura con amigos o con familia_Picos View

Viaje de aventura con amigos o con familia_Picos View

Viaje de aventura con amigos o con familia_Surf Costa Verde

Viaje de aventura con amigos o con familia_Surf Costa Verde

Viaje de aventura con amigos o con familia_9Viaje Activo Spain

Viaje de aventura con amigos o con familia_9Viaje Activo Spain

Barrancos Viaje Spain is More

Barrancos Viaje Spain is More

Pinchos in Bilbao

Pinchos in Bilbao

Viaje de aventura con amigos o con familia_Caving in Valporquero

Viaje de aventura con amigos o con familia_Caving in Valporquero

Holiday in Bilbao with Spain is More

Holiday in Bilbao with Spain is More

Holiday in Bilbao with Spain is More

Holiday in Bilbao with Spain is More

Holiday in Bilbao with Spain is More

Holiday in Bilbao with Spain is More

Viaje de aventura con amigos o con familia_Bufones

Viaje de aventura con amigos o con familia_Bufones

Viaje de aventura con amigos o con familia_Llanes

Viaje de aventura con amigos o con familia_Llanes

Viaje de aventura con amigos o con familia_Beautiful beaches

Viaje de aventura con amigos o con familia_Beautiful beaches

Viaje de aventura con amigos o con familia_Playa Active Holiday

Viaje de aventura con amigos o con familia_Playa Active Holiday

Viaje de aventura con amigos o con familia_Playa Costa Verde

Viaje de aventura con amigos o con familia_Playa Costa Verde

Viaje de aventura con amigos o con familia_Spanien bedste strande

Viaje de aventura con amigos o con familia_Spanien bedste strande
Description
This delightful self-drive tour is planned with daily activities, and focuses on alluring towns and magnificent natural surroundings. Activities can be changed according to your wishes.
The itinerary will provide new angles to this journey, and Spain is More researchers know the best operators to maximize this sensational tour.
The varied landscape in Northern Spain furnishes a wide range of exciting, fun, fascinating and perhaps even untested activities.
Combined with Northern Spain's fabulous cuisine, good wines, cultural experiences and lush panoramic countryside, this vacation becomes unique and unforgettable.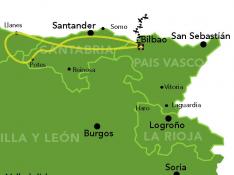 Price




From 840 EUR/pers.

Days




8 days / 7 nights
Detailed itinerary
Detailed itinerary (view all days )
Day 1: Arrival to Bilbao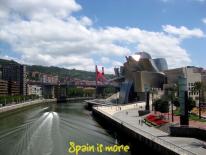 During the afternoon or the next morning (depending on your time of arrival), you will visit the Guggenheim Museum (entry included in the price) and you can visit the Old Town in Bilbao and enjoy its marvelous "pinchos," a small snack, typically eaten in bars, traditional in northern Spain and especially popular in the Basque country and Navarre.
Day 2: Bilbao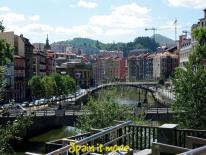 Bilbao is the largest city in the Basque Country. Compared to elegant San Sebastian, Bilbao had always been considered the ugly sister. Things changed, however, when American architect Frank Gehry chose Bilbao as the home of the Guggenheim Museum, which gives Bilbao a magnificent, modern and futuristic feel. Besides the museum, there is another unmistakable thing about Bilbao, its food. Basque cuisine is the culinary mecca of Spain, with the highest concentration of Michelin-starred restaurants in the world.
Days 3 - 5: Picos de Europa (Cave Gorge and Canyoning)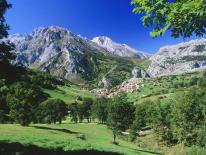 The trip turns deep into the Picos de Europa-mountains to a fantastic rustic hotel surrounded by mountain peaks.
Before you reach the mountains you will make a four-hour stop about one hour drive from Bilbao, where its time for the first activity of the trip, Cave Gorge:
---
Cave Gorge is a really awesome experience: you get deep into huge caves where you will be able to explore much further than a normal tourist would and beyond paths, light and dryness. You will be wearing a wet suit and will be provided with head torch while a special educated guide follows you through the underground river. You will find it sometimes necessary to fully rely on each other and jump straight into the darkness. There are typically a little rappelling and climbing in this discipline. This unique experience exists in few places around the world.
---
On your trip to the mountain-hotel, fantastic rock formations rise high and impressive on both sides of the road and parallel the river. Embark on one of the most famous and majestic hiking routes in Spain on the way to the hotel. The route cuts to the center of this wonderful mountain chain and ends in a lush valley, surrounded by high peaks, idyllic villages and a wonderful country kitchen.
The hotel is an ideal base from which to visit attractions and explore exciting adventures.
The next day its time for the second activity, which is always a favorite among our guests, canyoing.
---
Canyoning (Barrancos) is a fun and different experience for everyone in the family. The beautiful mountains and streams are crossed using various methods and you will try both rappelling, climbing and gliding through streams and rivers. A mixture of many fun mountain activities, which is always a big hit among our guests - youngsters as well as older.
The trip can be arranged so that people at different levels easily can be challenged even on the same group. An enthusiastic guide, who will be giving you a joyful experience, will follow you around the terrain. This activity can also be tested at night, when the experience is obviously different and somewhat more difficult (level 2-3).
---
There are also several possibilities for hiking in the valley including taking a cable car to the mountain heights on a breathtaking journey. From the top there are many hiking tours for all levels.
Days 5 - 7: Llanes (Kayak/Canoe and Surf)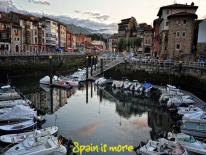 The trips turns back to the green and vigorous coast. You will stay in one of the most cozy and beautiful villages along the coast, Llanes.
Among the forests, idyllic fishing towns and large rock formations one can find some of the best beaches in Spain. Spain is More will expertly guide you through interesting and varied sightseeing locations. Because of the proximity to the mountains, the trip includes either canoeing or kayaking at a picturesque river.
---
A canoe trip is a classic activity that is always exciting and enjoyable for both children and adults. It is an excellent opportunity to get off the road. Bringing the lunch and enjoying the scenery and tranquillity on the journey through valleys and woods on quiet rivers, is a very joyful experience. As a normal rule, the trip does not comprise a guide, but it does include pickup and driving back after the trip. Please note that July and August are high-season, so the place can be crowded and be less peaceful than it is during other months of the year.
---
The Northern Spain waves are famous, and during this 2 hours surf course you will try surfing at your own level.
---
The Spanish coast is a paradise for surfers. Surf-people from around the whole world travel here when the season is approaching to feel the thrill of the perfect waves. Some of the beaches are legendary surf beaches and we can create courses for all tastes and for any level. Instructors are normally from other countries, as they stay as "surf bums" by earning a bit as surf instructors However, they are passionate about it and that way you get a glimpse to the authentic surf culture. If you want to go for a high-level course the challenge will of course depend on the weather and the wind.
---
Day 8: Departure from Bilbao
What is included in this trip?
From 840 EUR/pers. Per person in a double room
Single room supplement:160 EUR
It includes
7 x nights in double room in stunning hoteles selected for their quality, location and authentical charme.
7 x breakfast.
Rented car all days. Category: Ford Fiesta or similar (inclusive unlimited mileage, taxes and basic insurance). Upgrade when more that 3 pax.
4 multi-adventure activities (Caving, Barrancos, Surf y Canoe/Kayak)*.

Entrence to Guggenheim.

Spain is More guidebook in English with recommendations, itinerary, guides, maps, directions etc. (only one per group of 4).
24/7 emergency telephone number.
Taxes.
Optional
Personalise your trip: Extended stays, transportation to startingpoint from anywhere in the world and back, add interesting and authentic experiences etc. Please ask us, we will be happy to assist you.
Carrental: Please, ask for price, if you prefer a different category.
The price includes 1 Spain-is-More-Travel Guidebook per every 4 travellers. More copies can be purchased when booking for 20€ per copy, or 30 euros per copy if the request is less than 6 weeks prior to departure.
Cancellation insurence: 6% of total price (can be added when ordering).