Our Camino-Bikes and equipment
The bikes that we use are of the highest standard and are intended for Camino tours.
If you book a cycle holiday with Spain is More we will make sure that your rental bike will be at the first hotel of your Camino. We have different measures of bicycles for even the tallest person. You will receive a bike that fits you the best.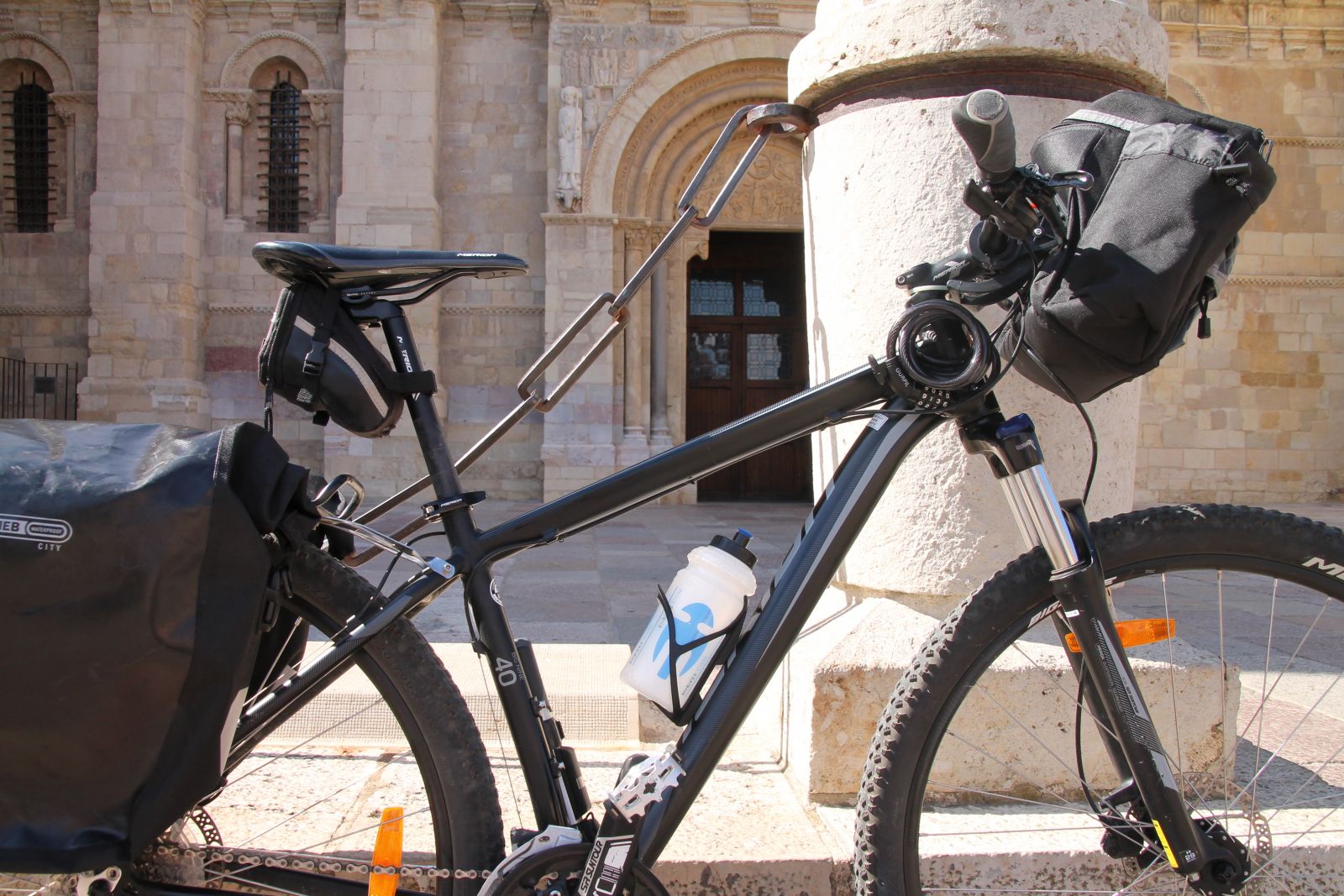 The mountain bike has strong tyres, good hand brakes, 3 front sprockets and 9 gears on the back, which make 27 gears in total. This can be become useful on the many unpaved paths and bigger hills during your pilgrimage. The pedals are standard bicycle pedals.
The equipment of our bikes contains of:
A small bag in the front
Two bicycle bags behind
A repair kit for punctures
A lock
A bike pump
A bottle cage, including a new bottle (feel free to bring the bottle home)
In the small bag fits 8.5 litre. This bag is ideal for the things you will need the most during your ride, as a camera or a small snack. It is easy to remove, so you can take it to your room.
Both bicycle bags on the back have space for 20 litres (40 litre in total). Here you can put other necessary things, like a rain coat or a jacket. The bags have reflective elements for more safety. Also these bags are easy to remove, so you don´t have to empty them after each day.
The repair kit:
In the repair bag you will find tools, like screwdrivers and the most necessary things in case of a puncture.
If you have a special request, for example to highten the handlebar, using clipless pedals or renting a helmet, please tell us before hand.
Check our cycle holidays along the Camino Frances and Camino del Norte.
Our Camino-Mountainbikes:
We have mountainbikes of the brands Merida Big Nine 40d and Megamo Natural 40.
Which sizes do we have?
S/15 (for people with a height between 155 - 165cm).
M/17 (165 - 175 cm)
L/19 (175 - 185 cm)
XL/21 (185 - 195 cm)
XXL/23 (>195)
Material mountainbikes: aluminium.
The tyres of the bikes are 27k5 and 29 inch.
Back