The Skinny on Tapas
Tapas are a very different experience on their home ground from what is served abroad. The tapas themselves may be delicious but the ambience is very very different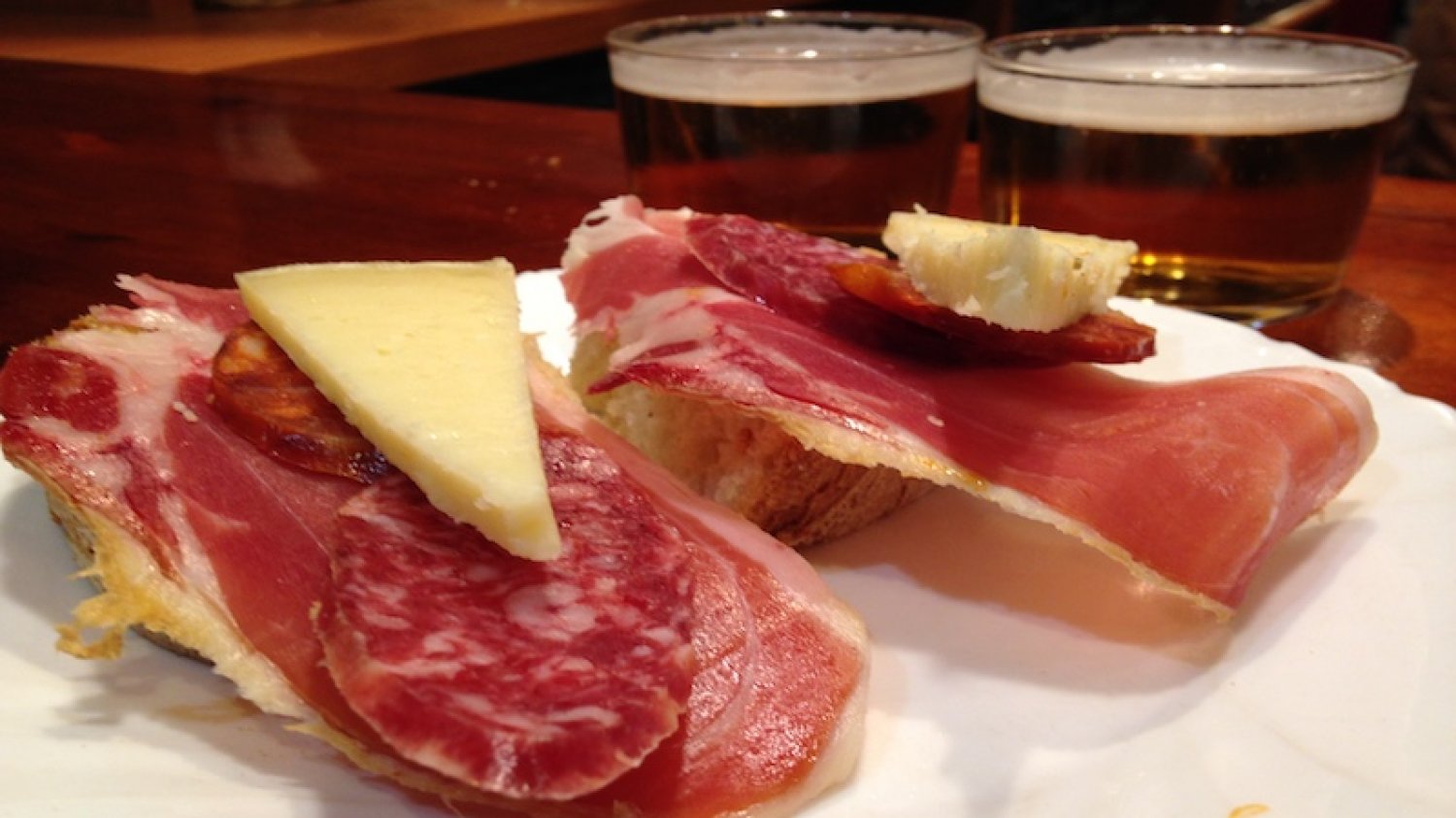 2016-07-25
Author: Nancy Harmon Jenkins
Publication: Worlds of Flavour


First-time visitors to Spain may be surprised—and pleased—to discover that tapas are a very different experience on their home ground from what is served abroad. In many countries—and especially in the United States—health regulations prevent the full flavor of the Spanish experience. The tapas themselves may be delicious but the ambience is very very different.

In Spain, whether you're enjoying tapas in Sevilla or San Sebastian, Barcelona or Madrid, they will almost invariably be made available from a display at the bar. You might make your selection and have it brought to a table (or carry it to a table yourself) but the tapas on offer at any given time will be laid out in an enticing counter-top display for all to admire, compare, and comment on. Clients help themselves or indicate to the barista which of the many offerings they'd like to try. Everyone congregates around the bar, jostling and elbowing for space but in the most affable and gregarious manner. Opinions may fly, disputes may arise—about local politics, about the future of the Real Madrid football team, as well as about the quality of the tortilla on offer or of the jamon serrano hanging over the bar waiting for a deft slice or two to be carved off and presented—but it's all done in the name of congeniality and any serious disagreement will end quickly in a clink of glasses and a toast.

Another difference: Spanish bar-hoppers don't expect to go to just one bar for tapas; instead, they'll stop at this one for the quality of the seafood, then move on to another for its famed gazpacho, and maybe to a third for the pinchitos, little wood or bamboo skewers threaded with spicy grilled meat. Sometimes a whole evening can be consumed in a tapeo, as this kind of tapas crawl is called, while other times a tapas stop is just a quick pause before going on to dinner. In any case, what defines it is sociability, in which the Spanish excel.

In the U.S., as in many other countries, health regulations require that hot food be kept hot and cold food cold and never the twain shall meet, thus seriously limiting the way tapas are presented or displayed. Furthermore, a sneeze bar, to protect bar patrons from their coughing, hacking, sneezing, sniffling neighbors at the bar, separates the willing tapophile from any offerings on view. Perhaps for this reason, in the U.S. tapas are almost always served as a particular course—that is, you sit at a table, you select from a menu, and the waiter brings you your chosen array. That's missing half—or maybe even three-quarters—of the fun in tapas, but that's what we have to do.

Restaurant managers must abide by these rules but fortunately home chefs do not. A great idea for a party, or just a group of friends getting together of an evening, is a tapas array, mostly put together ahead of time and laid out on a table or kitchen countertop for guests to help themselves. With tapas serve plenty of fino or manzanilla sherry, as well as a spicy red (a Jumilla from Alicante perhaps) and perhaps a bottle of well-chilled, bubbly cava.

Mix together tapas that require no advance preparation, such as big, green Spanish olives and crisply roasted Marcona or Largueta almonds, with something that might require a minimum of ahead-of-time cooking, such as a potato-and-onion Spanish tortilla or omelet, or lush red piquillo or Bierzo peppers stuffed with a mix of tuna, capers, and a dollop of mayonnaise. Marinate some small shrimps in a tasty mixture of chopped garlic (lots of garlic), olive oil, and smoky Spanish pimentón de la Vera, then toss them briefly in a hot frying pan to make gambas al ajillo . Add a couple of Spanish cheeses, perhaps a log of Montenebro goat cheese and a wedge of aged manchego, or thread small squares of manchego, alternating with squares of quince paste (dulce de membrillo) on little wooden skewers (banderillas ). Open a couple of tins of Spanish very high-quality seafood—mussels, sardines, or white anchovies—and, if you can get it, set out a platter of thinly sliced jamón serrano. With all this you'll have as fine a tapas array as any tasca (tapas bar) in Madrid.

Oh, maybe that's an exaggeration—but it will be mighty delicious in any case.
Back