Pilgrims of León: Linda from UK
What most surprised her about the Camino Frances was how easy it was to find your way thanks to the excellent sign posting.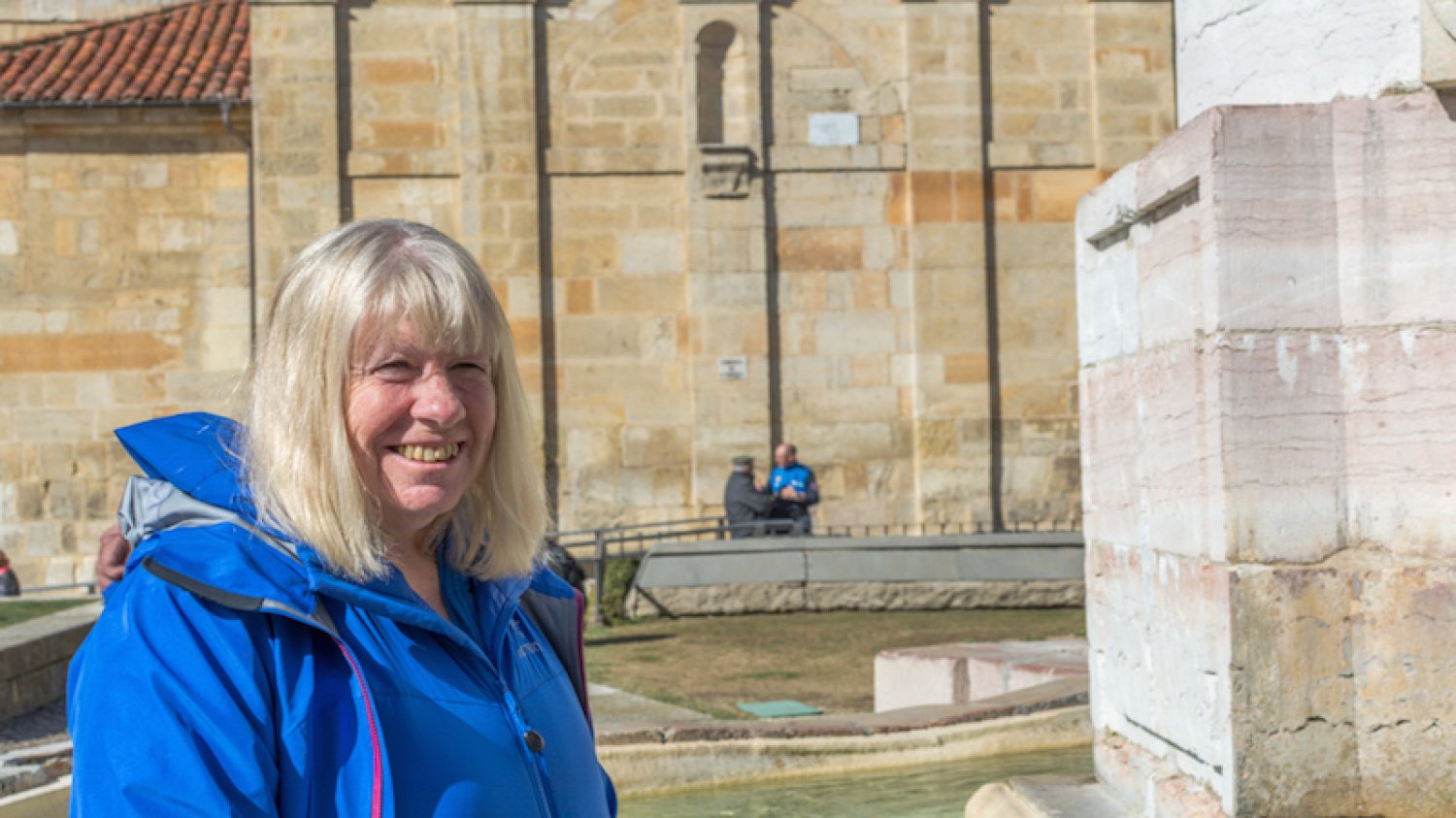 2018-04-01
How did you get the idea of walking the Camino de Santiago?
- I was volunteering in Poland when I first heard about the Camino and I really liked the idea. Later I ended up finding a job in León, which is right in the middle of the Camino. I thought it was fate that I ended up in León, so I decided to start to explore el Camino. So far, I have walked from Ponferrada to Sarria in 4 days during the Easter holidays and from Roncesvalles to Burgos in September, this took me 12 days. This trip was to celebrate my 60th birthday!
How did you prepare for your Camino?
- I did absolutely no training and I made a mistake with my back pack... It was a small day pack but at the same time it was very uncomfortable. It was also too small, so I ended up walking with 2 back packs: one in front and one in the back.
Also, the clothes I packed were too heavy. In the end I took a lot of advice from other pilgrims on my first Camino, so the next time I packed better.
What surprised you the most on the Camino Frances?
- There are little yellow arrows everywhere! I was pleasantly surprised how easy it was to find the way because the signposting on the Camino Frances is very good. On the other hand, the two guidebooks that I carried with me were absolutely useless.
How much did you engage with other pilgrims?
- I actually noticed a lot how there are 2 different Camino's. The Spanish Camino Frances and the 'Foreigner' Camino Frances. I noticed this because I walked with a Spanish friend for 2 days and the Spanish really have a different, less touristy experience on the Camino.
For example, the foreigners are always attracted by the signs "pilgrim menu" but that is always exactly the same food. While the Spanish people went to the local bars where they got better food. Also, I noticed that the older non-European pilgrims tend to stick together, while the older European pilgrims like to mix up more. Young people always mix a lot.
What do you regret not packing?
- I was walking the Camino Frances alone, so I should have packed something small to carry my money and passport. You are asking for trouble if you leave your money unattended.
In what kind of accommodation did you sleep on the Camino?
- Both Camino's I tried to sleep in an 'albergue' the first night. But I had to change to a private hotel room because I just couldn't stand the snoring men. Also, in the 'albergues' everyone gets up at the crack of dawn. It stressed me out because it got me thinking "I also have to get up and get going".
So, on both my experiences I ended up booking hotels along the Camino. Actually, the most difficult part of doing the Camino is to find a place to sleep. If you don't speak Spanish it is very difficult. Because I walked with a Spanish friend for 2 days, I knew how it is done: if you don't arrive before 14:00, they don't hold your booking because they can fill up the rooms anyway. Also, sending emails to the hotels is useless because they ignore them.
Actually, I think the Camino is a culture shock for a lot of people because they are not used to the Spanish timings. In some villages, everything is closed in the afternoon. Americans, especially, are not used to this.
Is it safe on the Camino?
- I do think it is safe to walk during the high season. You can always see pilgrims everywhere. But my sons were very worried about me. They actually wanted to make sure I was alright every single day. First of all, they thought I wouldn't be able to walk so much and secondly, they just thought it isn't safe to walk in the countryside in the middle of Spain on my own. But it is totally fine, I think the Camino is safe.
Are you planning to do another Camino?
- I am thinking of doing the Camino del Norte. I would also like to do the whole Camino Frances, starting in Saint-Jean-Pied-de-Port and walking to Santiago and continuing to Finisterre. I can see why people do the Camino more than once!
What is the one piece of advice you would give to somebody considering the Camino de Santiago?
1. VASELINE = no blisters
2. JUST DO IT! Doesn't matter how many books you read beforehand, you just have to put on your walking shoes and start walking and get in the flow of the Camino.
3. DIGITAL DETOX! Don't use your Smartphone so much! Don't ask for WIFI – talk to each other! I was really surprised that so many people can't let go of their smartphones. I think the whole point of doing the Camino is to let go of these things and to slow your pace down. But if you constantly listen to news from abroad and you constantly update your Facebook, then you don't give yourself thinking time. And you can't find yourself.
Thanks a lot for talking to us Linda!
Back