Three easy steps to specialities from the Galician cuisine
Galician gastronomy - one of Spains purest in taste and preparation.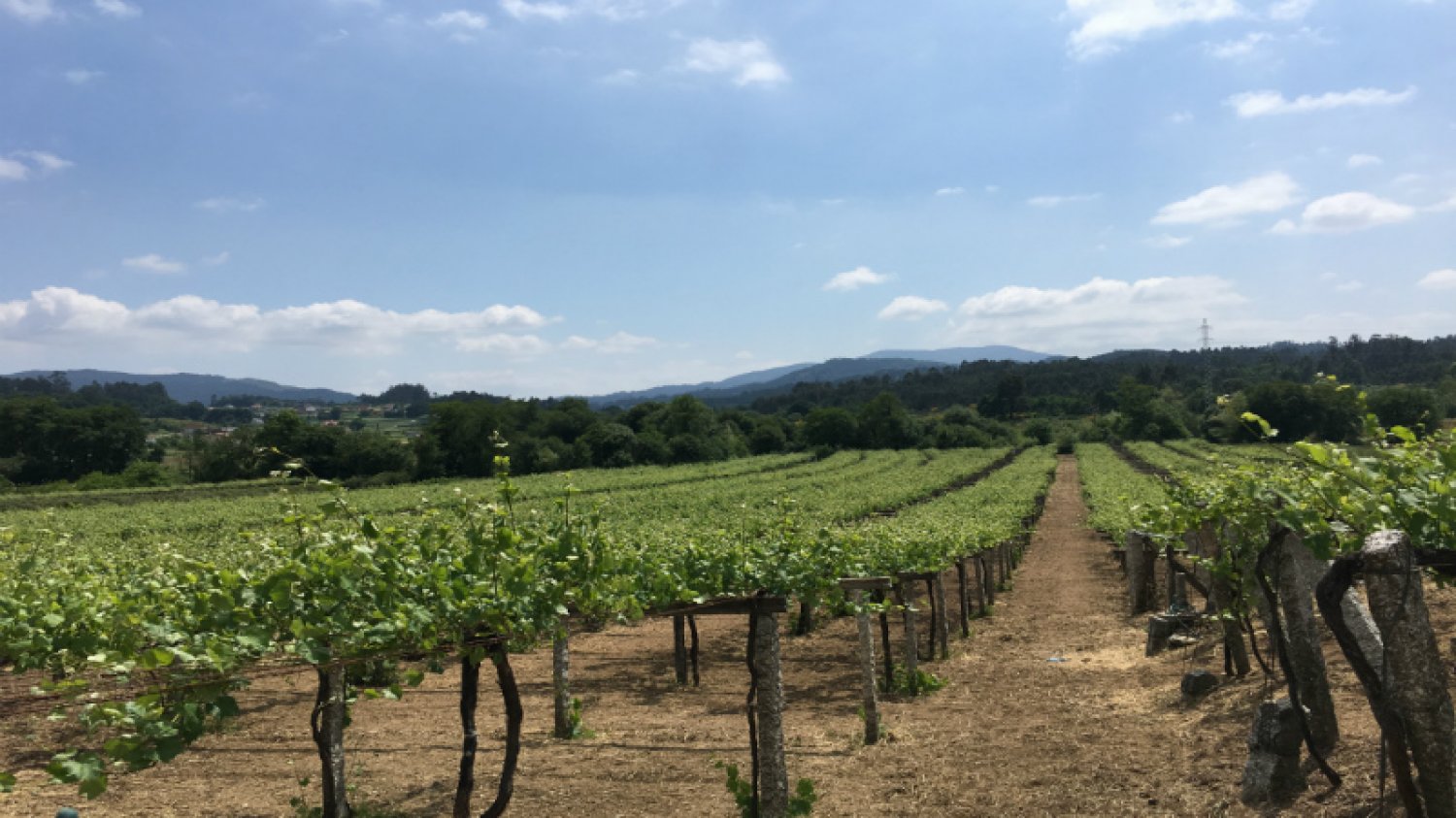 2019-01-23
Did you know that many Spaniards consider the Galician cuisine, as one of the purest in taste and preparation?
In the following you will find 3 recommendations to inspire and prepare you for having holidays in the amazing north western part of Spain.
Pimientos de Padrón (Green spicy peppers)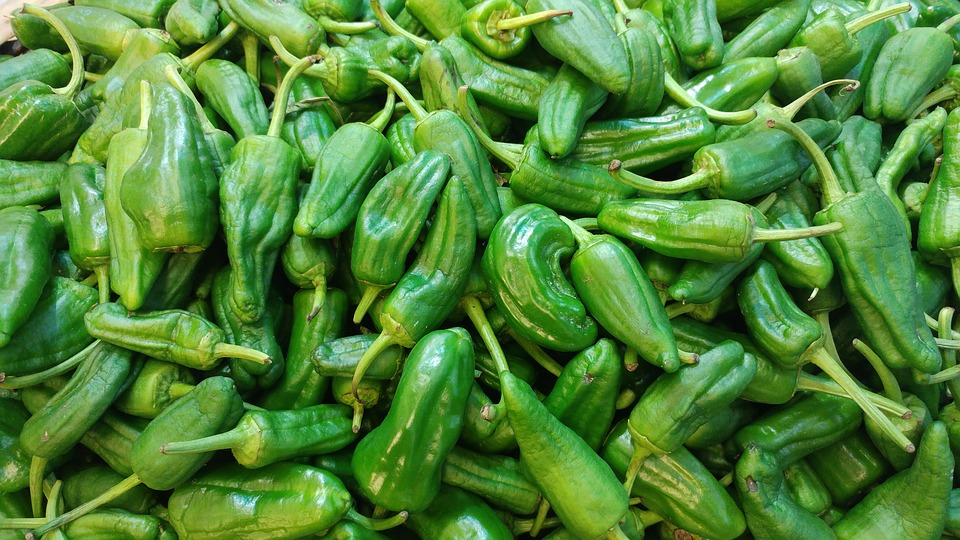 Why not startwith what seems to be a humble and simple dish. But be careful, ones you have tried these small spicy peppers, you might get addicted – we suddenly are!
This vegetable is usually ordered as a tapas plate, pimientos de padrón are small green peppers which are fried and sprinkled with sea salt. You'll find them on almost every tapas menu across Spain, however they originate from the area of Padrón, found in Galicia, southwest of the city Santiago de Compostela. The residents of the area are so proud of these small vegetables that they hold a festival in their honour each August. The first Piemientos de Padron are said to have been brought to Spain from Central America by monks from the Franciscan Order, as early as the XVI century.
Do we need to say that pilgrims passing Padrón on their way to Santiago de Compostela must try Piemientos de Padrón? Check out here how you can get to Padrón.
Pulpo a la gallega (Galician style octopus)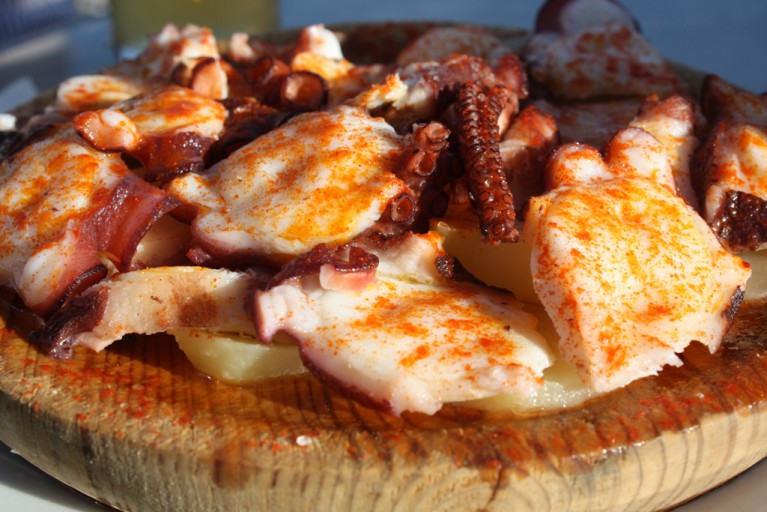 For this dish there are only two possibilities: You either love it or you hate it. There is nothing in between – this is the taste of the Ocean, the taste of unpretentious cooking and indeed, the taste of Galicia!
Galician style octopus also sometimes called Pulpo a Feira, is properly the most iconic dish in the whole of the region. Fairly simple to make, it consists of a layer of thinly sliced potatoes, topped with boiled octopus and sprinkled with paprika. It is typically served on a thick wooden dish and eaten with cocktail sticks. We recommend you overcome your fears and try this dish, when freshly served it is delicious!
Check out this link how to get to one of the most iconic places in Galicia for having Pulpo a la Gallega.
Mariscada (Seafood)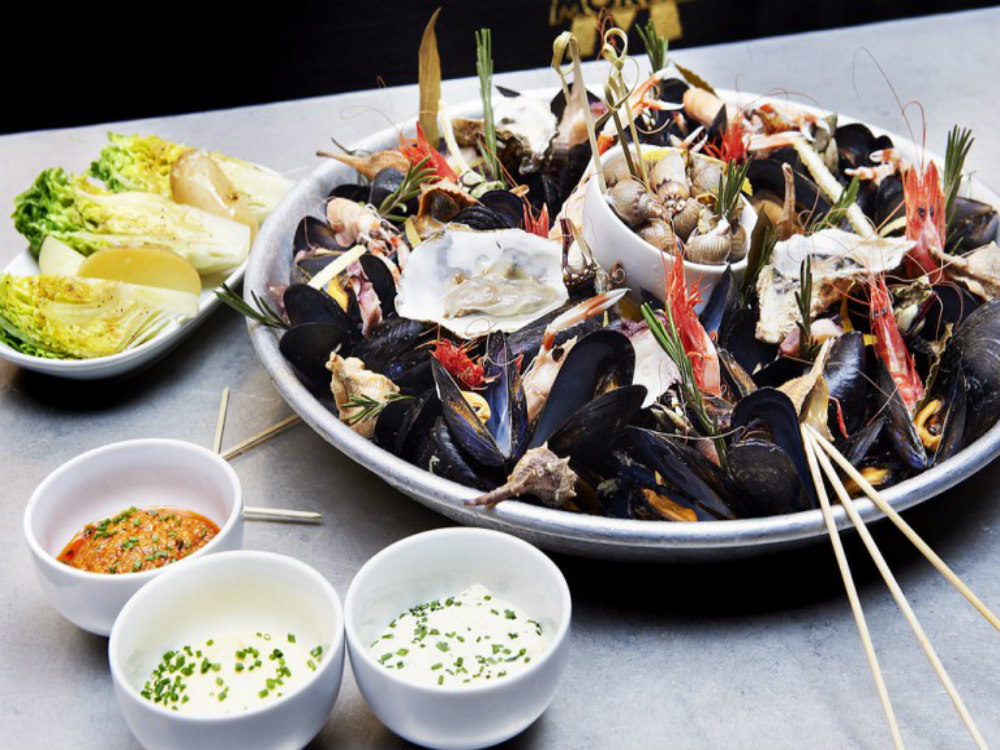 Bordering the Atlantic Ocean, it is no wonder Galicia is known for its excellent seafood. If you want to taste some of the best in one dish, try the mariscada Gallega. A seafood platter, it's typically crabs, oysters, mussels, razors, clams and goose barnacles, but could contain any fresh shellfish. Did you know that one of Europes biggest fishing ports is Vigo, in Galicia. When you have seafood or fish dishes in a good restaurant in Madrid, it is most likely delivered directly from the port of Vigo.
Getting curious about this? Then you might like to know how to get to taste these delicious Galician seafood disches. We recommend a good galician Albariño white wine from Las Rias Baixas to go with this seafood dish. Discover here how you find your way through the heavenly made wines and galician cuisine.
Back