A gastronomic city break in León
The former first city of a mighty medieval kingdom, laid-back León is Spain's 2018 Capital of Gastronomy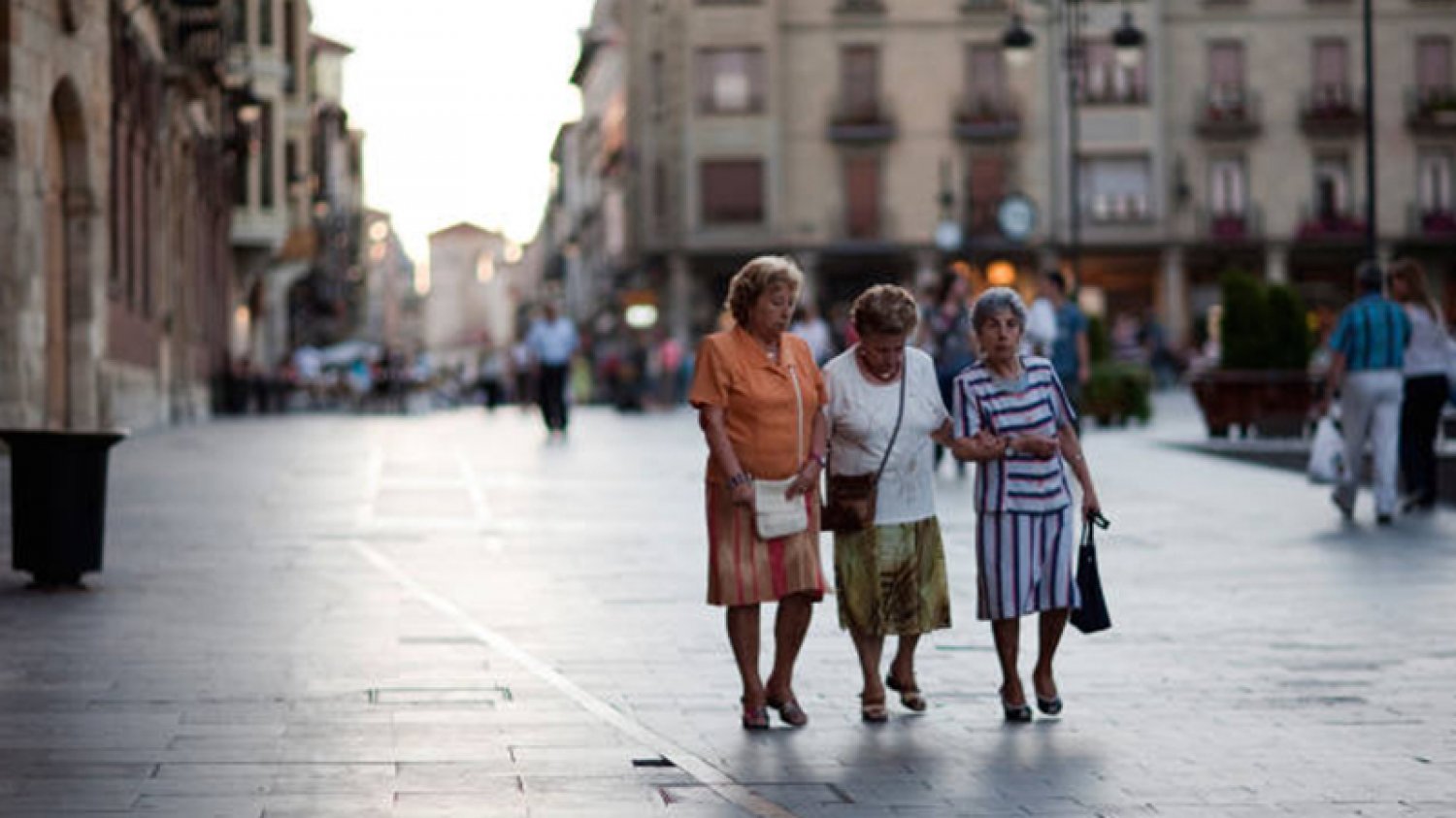 2018-04-08
Richard Ford's description in his 1845 Handbook for Travellers in Spain remains as true today as when it was written: "The very important kingdom of León, because lying out of the hacknied [sic] track of travellers, is not visited as it deserves."
León today is a small city of 126,000 souls, way up in the north-west quadrant of the Iberian peninsula, a little introverted in the way of provincial towns, happy to subsist on its own traditions and routines, and untroubled by the things that worry the A-list cities of Spain's south and east, like the excesses of mass tourism. León province is now ignominiously lumped in with a neighbour, Castile, to form the "autonomous region" of Castilla y León.
But it was not ever thus. For several centuries of its 2,000-year history, León was capital of a mighty kingdom that at its height stretched over almost a third of the Iberian peninsula, encompassing what are now Galicia, Asturias, Extremadura and Castile, plus a large chunk of Portugal. City museums like the Centro de Interpretación del Reino de León, beside the old Conde Luna market, show maps of the sprawling reino during its 10th and 11th-century heyday, alongside portraits of the stern-faced Leonese monarchs that governed this ancient territory.
One of the things to have happened to boost León's self-esteem in recent years is the high-speed AVE rail link with Madrid. Completed in late 2015, it has cut the journey time to just over two hours, making a weekend break here an enticing possibility. Another is that León has been named Spanish Capital of Gastronomy for 2018, bringing media attention to bear on the lively tapas scene in the city's myriad bars, on the modern Leonese cuisine at restaurants Cocinandos and LAV, and, not least, on the products of the province, from the characterful wines of El Bierzo to the blue cheeses of Valdeón and the air-dried beef cecina, León's signature charcuterie item and main culinary status symbol.
On a shivery day at the end of winter I walked from the station over the river Bernesga, along the wide Avenida Ordoño II (named after a much-admired 10th-century ruler) and into a tangle of alleys where churches and convents cohabit amiably with wine bars, bookshops and grocers. Before heading for my hotel, I couldn't resist a brief detour down the Calle Ancha, main street of the old town, towards the esplanade where León's majestic cathedral, built in the 13th century in an exquisite Gothic style, dominates the city in every conceivable sense.The cathedral and its 1,800 sq metres of medieval stained glass are engaged in a long-term process of restoration, and newly resplendent glories are unveiled on a regular basis.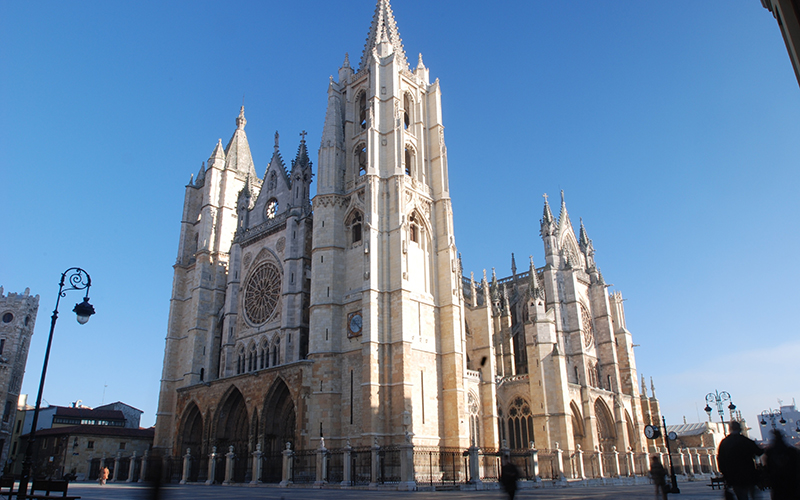 The Colegiata de San Isidoro, old-town León's other unmissable building, was where I'd be sleeping on this three-day visit.
Covering more than a hectare of historic real estate, the Colegiata holds within its walls a monastery, a museum, Roman remains, a Romanesque basilica, the pantheon where 23 Leonese kings and queens are buried, and the chalice of Doña Urraca, one of the more convincing candidates for the Holy Grail. It also houses a charming small hotel that is for now the city's best place to stay, at least until the stately 16th-century Parador Nacional de San Marcos finally reopens next year after a total renovation. (A new set of glam self-catering apartments on the Calle Ancha, Principia Suites, is also worth investigating.)
The Hotel Real Colegiata de San Isidoro is done up in the historicist manner — dark antique furniture and Baroque paintings of sad saints and gloomy aristocrats — but last year 10 of the 46 rooms were attractively refurbished in a comfortable minimalist style, with Miguel Milá floor lamps and solid oak doors. My room had an un-rendered, metre-thick stone wall and a casement window giving on to a Renaissance cloister with a dribbling fountain. Roaming the complex next morning, I took a wrong turn and got lost among monumental staircases, creaky-floored corridors and unfamiliar courtyards. Beside one of these patios lay the austere, unadorned tombs of the Panteón Real and the vaults above them whose painted scenes of 11th-century country life, rendered in clear and vivid colours, were amazingly well-preserved and strangely moving. Behind a bulletproof case in the museum stood Doña Urraca's famous chalice, recently shown to contain a simple agate drinking bowl made in 1st-century Palestine within its jewel-encrusted gold exterior.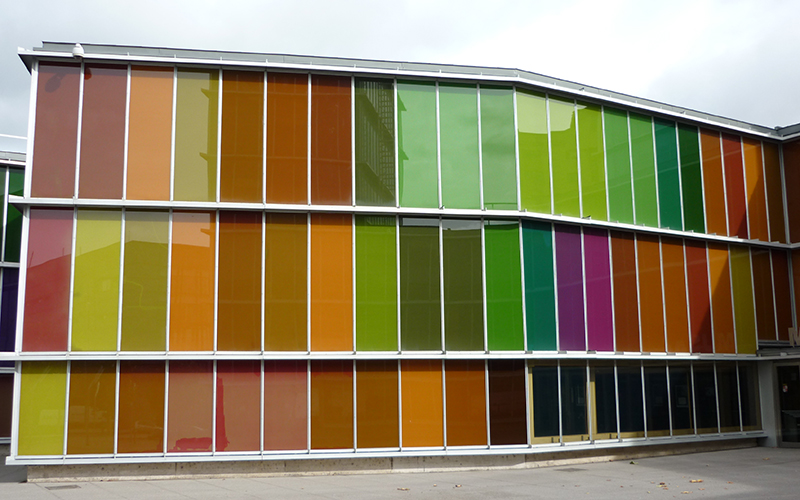 Not all León's excitements, I found, were of historic origin. The Museo de Arte Contemporáneo (Musac), an arresting building by Spanish starchitects Mansilla + Tuñón, won the Mies van der Rohe prize in 2007 for its panelled walls replicating the colours of the cathedral's stained-glass windows. If you like that, you will be happy eating in the bright first-floor dining room at LAV, León's forward-thinking restaurant of the moment, where the aperitif snack was a candied foie gras "pebble", macaroons came flavoured with chorizo, and dessert was served in a laboratory flask. Even at its most avant-garde, however, León cannot help harking back to its glorious past.
In 1893 the architect Antoni Gaudí received a commission for an apartment block and haberdasher's shop in then-remote León. I needed no GPS to find Casa Botines, a fairytale castle whose teetering spires, tapering windows and slate tiles in fish-scale formation are all Gaudí tropes familiar from Barcelona's Casa Batlló and Palau Güell. At the time of my visit, this former bank branch, open to the public since April last year, was being converted into the largest Gaudí museum located inside any of his buildings. It opened just before Easter and already, said Chema Viejo, marketing director of Casa Botines, visitors from Japan and Korea have begun making the trek from Barcelona just to see the Gaudí they hadn't known existed.
From the top of a turret I could see the Picos de Europa mountains in the near distance, their summits glazed with snow. Down in the square, locals strode the pavements purposefully, zipped and buttoned-up in thick coats and fur-lined boots.
Over in the Barrio Húmedo — dubbed the "wet neighbourhood" for the quantity of liquid habitually consumed here — the first clients of the midday tapas round were gathering in the bars, of which León province is said to have more per head of population than anywhere in Spain (5.03 for every 1,000 inhabitants, to be precise). Here was a side of León, gregarious and fun-loving, that dismantled my prejudiced idea of a stark and serious northern city that prefers the cosiness of life indoors. Every locale in the city has its tapas speciality, and what makes León increasingly unusual in Spain is that here the snack comes free with your glass of wine. Don't expect a San Sebastián level of culinary complication — the tapa might be as simple as a slice of cecina, a chunk of chorizo, or a crisp croqueta — but everything is reliably tasty.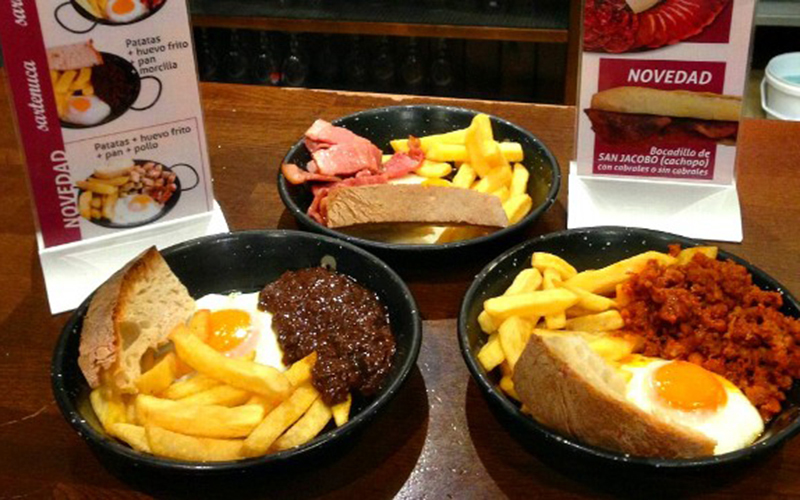 At Camarote Madrid, a bullfight-themed bar that heaved with regulars as the 1pm aperitif hour rolled round, there was garlicky salmorejo soup and fresh-fried potato crisps; and at Rua 11, canapés of goat's cheese with walnuts and honey or roast Bierzo peppers and tuna belly. In the Plaza San Martín, ground zero of the Barrio Húmedo bar scene, I snaffled a saucer of homemade meatballs along with a big glass of pungent, minerally local red at a half-timbered tavern called the Rácimo de Oro ("golden grapes"). Leonese cuisine is not for fussy or faint-hearted eaters, but there's a subtlety even in its solid savouriness. I discovered this over lunch at Bodega Regia, a 14th-century townhouse where Marcos Vidal sat me down to a properly Leonese menu beginning with cecina and cured pig's tongue, smoky chorizo and creamy-centred ham croquetas "in the style of Ana", the chef and Vidal's wife (the restaurant has been in the family for more than 60 years). That was followed by a comforting dish of stewed chickpeas, then slow-cooked beef cheeks so tender they fell apart under the fork, and a dense sweet cake made with chestnuts from the forests of El Bierzo. From the Bodega I emerged into the cold afternoon for a stroll along Calle Ancha, nearly deserted at siesta time, and another look at the great cathedral, whose cream-white spires, scrubbed free of a thousand years of grime, soared and glittered in the clear air.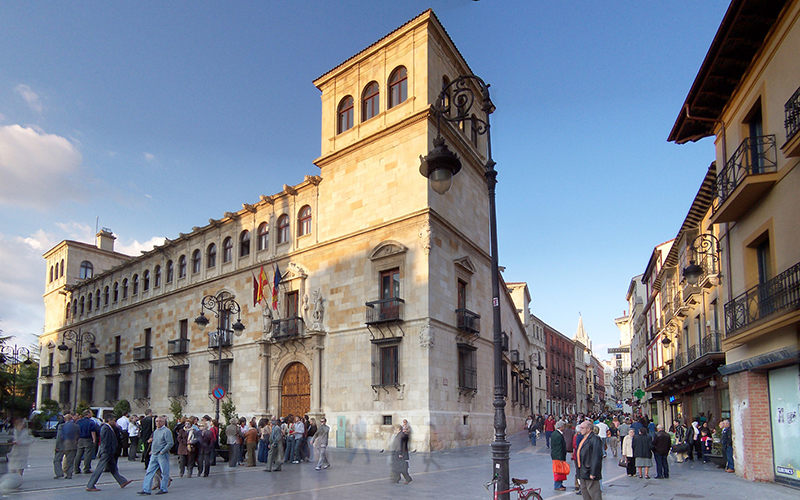 "The communications with León are very indifferent, and few travellers come this way," lamented Richard Ford in 1845. Transport connections have improved since then, and this small city's big-hearted hospitality and keen sense of its own history are undiminished. More travellers, I say, should come this way.
Source: Written by Paul Richardson by the Financial Times
You can read the whole article if you are subscribed to the Financial Times here
Back