Pilgrims of León: Eric from the Netherlands
Eric is walking the Camino to raise money for Charity.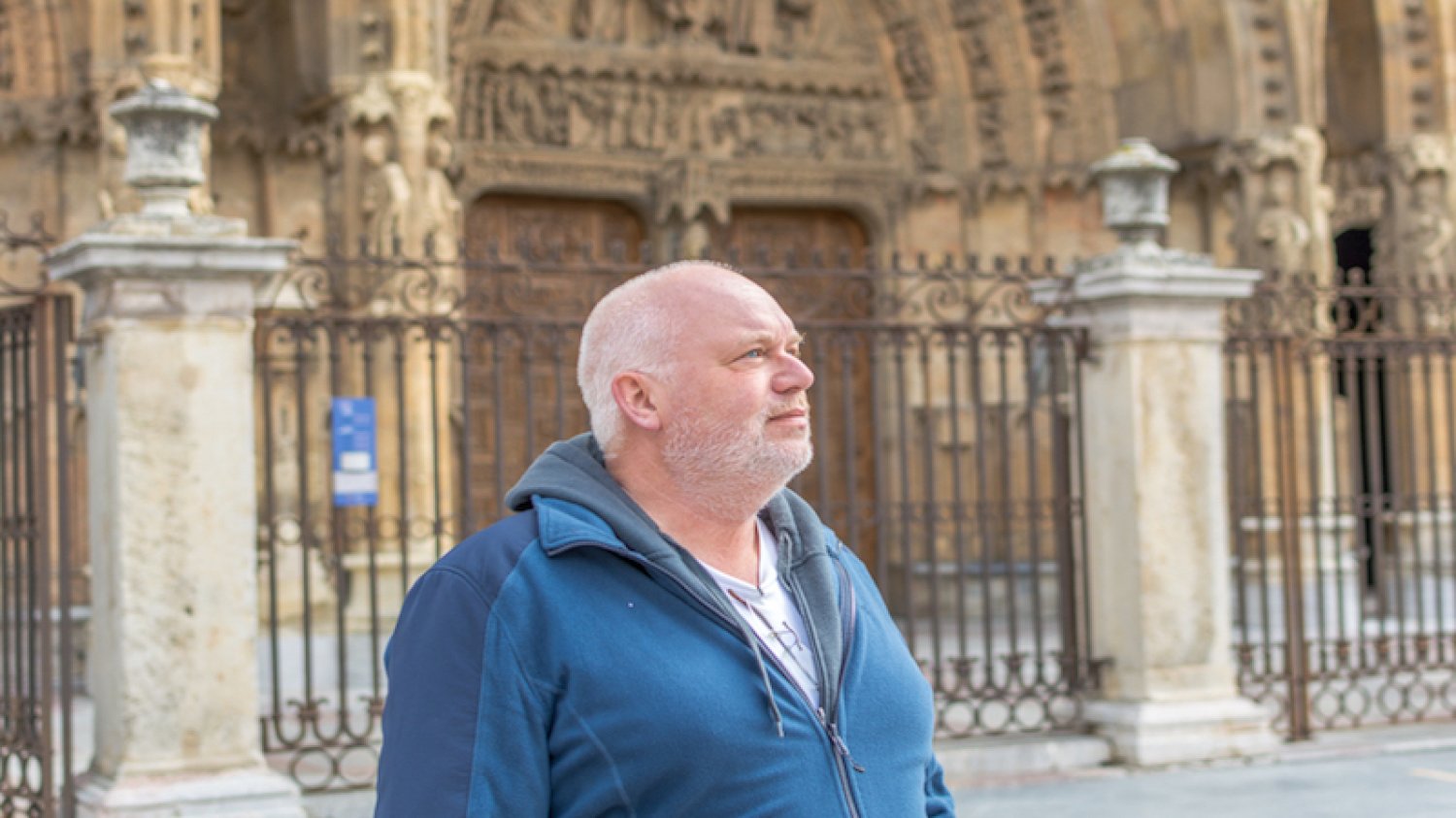 2018-04-06
Why are you doing the Camino?
I decided to walk the Camino because I always wanted to. At the same time, I wanted to do something for charity. At first, I thought of volunteering, but then I changed my mind. I walk the Camino and at the same time I am seeking sponsorship for three major charity organizations that are known worldwide to take care of children. Children are very important to me. My wife and I adopted 4 children. The sponsoring of my trip is going OK, but I expected more. My goal is to raise 20 000 Euros, people are welcome to donate money until 1 July 2018.
How has your experience been so far?
I started in Saint-Jean-Pied-de-Port on Wednesday, March 14th 2018. I have had very bad weather. At one point I even had to hide behind the rocks because I couldn't keep on going because of the wind. When I arrived in the province of Navarra there was more than 1 meter of snow. And because of the weather conditions I went on walking the first day for 10 hours. That was pretty tough. But I was very happy when I saw the hotel!
And also, because I come from a country where there are no hills at all, I also had to get used to it. I had trained beforehand but training in the Netherlands is not comparable to the hills and the mountains here. But the more I walked, the easier it went. So that's fine.
Many people say that the Camino influences their lives. Is that also the case for you?
I don't dare to say that's the case because I do not have that feeling yet. But it will definitely change your life because it is of course a very nice experience to walk the Camino. I also wanted to be completely alone for a while, without people around me. And if you can walk on your own, then you can fully recharge. But to say that this has changed my life, I don't know. I think that that feeling maybe comes after I have walked the whole Camino and I am back at home for a few days. Now I do not notice much change, I am in a kind of flow.
Were there days when you absolutely did not feel like walking?
I did feel like walking every day. But while I was walking I sometimes thought: I wish the weather would be a little better, that would have been nice.
Do you walk alone?
I love to walk alone. And of course, I also met a lot of people. With a few, I have been walking 2 days in a row and sometimes I ran into the same people later. I have walked with an American priest, for example. That was during two stages with very bad weather and then of course it is great if you can walk together because that makes it all much easier to walk.
I also met a very nice woman from England, a 70-year-old woman with a pacemaker. She was not allowed to walk more than 15 km per day. She is a creative writer and we have had such a nice conversation that she has written down my story. She is going to help me to encourage people to donate money to the charity Organisations. Very nice woman, I am still in contact with her. And sometimes you also meet people during dinner in the evening. And the next day everybody goes his own way again. That is very inspiring.
What surprised you most during the Camino? Positive and negative?
The weather was very disappointing this time of the year (March 2018). And nature is sometimes beautiful and sometimes very boring. At the other hand, I am very positively surprised by the hospitality of the people, the nature, the food, the bars, the tapas, emptying your head while walking.
Do you have any tips for other pilgrims?
That is a good question, the Camino walking is something very personal. But privacy is important to you, it is wise to book a hotel and not to sleep in an 'albergue'. Do not walk more than your body indicates and take care because there are places where you have to walk very focused because sometimes the road can be slippery or steep. And enjoy!!!
And what about your luggage? Did you pack too little or too much?
I wouldn't have packed differently, I have a little day backpack. I do not have too much with me in the small backpack; bottles of water, first aid kit, gloves. Be sure to bring gloves and a hat with you, that is very important. And a good poncho and good hiking pants. I made the mistake of walking in jeans for a few days. The rest of my luggage was transported by Spain is More and I really liked that!
Are you planning on walking another Camino?
Yes, I would love to come back with my wife. And then we could maybe walk the Portuguese route because that is a very easy route.
Thank you for your time Eric! Buen Camino!
Back