Camino Finisterre (Santiago via Finisterre to Muxia)
8 days, 117 km. (73 miles) Complete your Camino with this beautiful hike to FInisterre and Muxia
Camino Finisterre: Santiago - Finisterre/Muxia_14Finisterre y Muxia

Camino Finisterre: Santiago - Finisterre/Muxia_14Finisterre y Muxia

Camino Finisterre: Santiago - Finisterre/Muxia_13Finisterre y Muxia

Camino Finisterre: Santiago - Finisterre/Muxia_13Finisterre y Muxia

Camino Finisterre: Santiago - Finisterre/Muxia_12Finisterre y Muxia

Camino Finisterre: Santiago - Finisterre/Muxia_12Finisterre y Muxia

Camino Finisterre: Santiago - Finisterre/Muxia_1Finisterre y Muxia

Camino Finisterre: Santiago - Finisterre/Muxia_1Finisterre y Muxia

Camino Finisterre: Santiago - Finisterre/Muxia_2Finisterre y Muxia

Camino Finisterre: Santiago - Finisterre/Muxia_2Finisterre y Muxia

Camino Finisterre: Santiago - Finisterre/Muxia_3Finisterre y Muxia

Camino Finisterre: Santiago - Finisterre/Muxia_3Finisterre y Muxia

Camino Finisterre: Santiago - Finisterre/Muxia_4Finisterre y Muxia

Camino Finisterre: Santiago - Finisterre/Muxia_4Finisterre y Muxia

Camino Finisterre: Santiago - Finisterre/Muxia_5Finisterre y Muxia

Camino Finisterre: Santiago - Finisterre/Muxia_5Finisterre y Muxia

Camino Finisterre: Santiago - Finisterre/Muxia_6Finisterre y Muxia

Camino Finisterre: Santiago - Finisterre/Muxia_6Finisterre y Muxia

Camino Finisterre: Santiago - Finisterre/Muxia_7Finisterre y Muxia

Camino Finisterre: Santiago - Finisterre/Muxia_7Finisterre y Muxia

Camino Finisterre: Santiago - Finisterre/Muxia_8Finisterre y Muxia

Camino Finisterre: Santiago - Finisterre/Muxia_8Finisterre y Muxia

Camino Finisterre: Santiago - Finisterre/Muxia_9Finisterre y Muxia

Camino Finisterre: Santiago - Finisterre/Muxia_9Finisterre y Muxia

Camino Finisterre: Santiago - Finisterre/Muxia_10Finisterre y Muxia

Camino Finisterre: Santiago - Finisterre/Muxia_10Finisterre y Muxia

Camino Finisterre: Santiago - Finisterre/Muxia_11Finisterre y Muxia

Camino Finisterre: Santiago - Finisterre/Muxia_11Finisterre y Muxia

Camino Finisterre: Santiago - Finisterre/Muxia

Camino Finisterre: Santiago - Finisterre/Muxia

Camino Finisterre: Santiago - Finisterre/Muxia

Camino Finisterre: Santiago - Finisterre/Muxia

Camino Finisterre: Santiago - Finisterre/Muxia

Camino Finisterre: Santiago - Finisterre/Muxia

Camino Finisterre: Santiago - Finisterre/Muxia_16Finisterre y Muxia

Camino Finisterre: Santiago - Finisterre/Muxia_16Finisterre y Muxia

Camino Finisterre: Santiago - Finisterre/Muxia_16Finisterre y Muxia

Camino Finisterre: Santiago - Finisterre/Muxia_16Finisterre y Muxia

Camino Finisterre: Santiago - Finisterre/Muxia_15Finisterre y Muxia

Camino Finisterre: Santiago - Finisterre/Muxia_15Finisterre y Muxia

Camino Finisterre: Santiago - Finisterre/Muxia_16Finisterre y Muxia

Camino Finisterre: Santiago - Finisterre/Muxia_16Finisterre y Muxia

Camino Finisterre: Santiago - Finisterre/Muxia

Camino Finisterre: Santiago - Finisterre/Muxia

Camino Finisterre: Santiago - Finisterre/Muxia

Camino Finisterre: Santiago - Finisterre/Muxia

Camino Finisterre: Santiago - Finisterre/Muxia

Camino Finisterre: Santiago - Finisterre/Muxia

Camino Finisterre: Santiago - Finisterre/Muxia_29Finisterre y Muxia

Camino Finisterre: Santiago - Finisterre/Muxia_29Finisterre y Muxia

Camino Finisterre: Santiago - Finisterre/Muxia

Camino Finisterre: Santiago - Finisterre/Muxia

Camino Finisterre: Santiago - Finisterre/Muxia

Camino Finisterre: Santiago - Finisterre/Muxia

Camino Finisterre: Santiago - Finisterre/Muxia

Camino Finisterre: Santiago - Finisterre/Muxia

Camino Finisterre: Santiago - Finisterre/Muxia

Camino Finisterre: Santiago - Finisterre/Muxia

Camino Finisterre: Santiago - Finisterre/Muxia

Camino Finisterre: Santiago - Finisterre/Muxia

Camino Finisterre: Santiago - Finisterre/Muxia

Camino Finisterre: Santiago - Finisterre/Muxia

Camino Finisterre: Santiago - Finisterre/Muxia

Camino Finisterre: Santiago - Finisterre/Muxia

Camino Finisterre: Santiago - Finisterre/Muxia

Camino Finisterre: Santiago - Finisterre/Muxia
Camino Finisterre is a fantastic route. It's the only Camino that starts in Santiago de Compostela and advances west towards the ocean, towards 'worlds-end' as the Romans used to call it. Then, it was the end of the known world, a magical place, with a harsh, rugged nature.
Finisterre is the perfect psychological, spiritual and historical end to the Camino trip. Here you will find many interesting churches, pazos (large Galician farms), cruceiros (pilgrim crosses) and, of course, countless hórreos (typical Galician drying houses.)
It is a quiet route since most pilgrims choose to end their Caminos in Santiago de Compostela. It often rains in this part of Galicia and mornings are misty. The trip to Finisterre, especially if you choose to continue to Muxia, will give you the opportunity to experience something truly unique, the authentic, lesser-known Galicia.
If you have time, we highly recommend that you walk the last stretch along the coast to Muxia and visit its famous maritime and uniquely located church, Santuario de Nosa Señora da Barca. This only requires an extra night and a day trekking. The stretch of coast between Muxia and Finisterre is one of the most beautiful in Spain, with lots of nice sandy beaches, dunes and idyllic villages.
NOTE! Please note that walking the Santiago Camino from Finisterre to Muxia doesn't make you eligible to receive a pilgrimage because you do not walk into Santiago. Instead, you get another proof, which we describe in the guidebook that you receive before departure.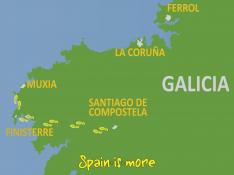 Price




From 445 EUR/pers.

Km




119

Days




8 days / 7 nights

Difficulty


? NOTE: nowhere, in any Camino, will steep cliffs be found next to path!

1: Very easy. Flat and without significant gradients. Good and normally wide paths.

2: Easy. Slightly hilly. Good and normally wide paths.

3: Medium. Hilly, possibly with longer distances between service facilities/cities. Good, sometimes narrow paths.

4: Medium/Hard. Longer, steeper climbs, perhaps with few servicefacilities/cities. Good, sometimes narrow paths.

5: Hard. Long gradient(s), possibly few facilities. Very hilly. Good, sometimes narrow paths.
Description
The terrain on the Camino Finisterre is relatively easy. In the beginning, there are some hills, but in general, the paths are easy and wide. Once you catch your first sight of the ocean, with the splendid views, you will forget all about elevations and terrain changes. You can simply extend the pilgrimage by walking from Finisterre to Muxia, which is one of the loveliest Camino stages of all - and also one of the least used. Again, it's a stunningly beautiful trip.
Until Columbus proved otherwise, Finisterre (Fisterra in Galician) was the end of the known world. Hence the name, Finisterrae, the end of the world, as the Romans called it. For centuries, this site has been the symbolic end, the way for many pilgrims to gain closure after their journey to Santiago.
During the nearly 90 km (54 miles) Camino from Santiago to Finisterre, there are several pilgrimage sights and immense natural beauty. In particular, if you have been walking for days, or even weeks, it is refreshingly breathtaking to see the sea, the beautiful fjords and the white sandy beaches.
The lighthouse at Finisterre, located on top of a steep cliff, high above sea level, is surrounded by stunning landscape. Take in impressive views of the rugged and famous coastline, where countless ships have suffered ill fates on the hidden reefs of this rocky coast.
Take full advantage of some sightseeing as you pass through several small villages on the way to the "End of the World," in particular, fishing villages along the coast where you can try fresh fish and seafood in the restaurants located in several small quaint harbours.
This route has some variants, depending on your time and energy. The most popular route is the 88.9 km (54 miles) Camino from Santiago to Finisterre, for 4 nights. After the last night in Finisterre, the bus will take you back to Santiago, where you will need an extra night before catching the plane home (on weekdays you arrive in Santiago at 10:45 AM and on weekends at 3:00 PM.
Service functions are ok, but the number of cities is limited, so some planning is necessary. Nonetheless, there are always restaurants in or near the hotel in the evenings. This route goes through cities almost every day, which has supermarkets, banks, laundry services, shops and other possibilities in order to restock your provisions.
Spain is More's Camino guidebook (which you will receive some weeks before departure) contains all the information you will need about the pilgrimage offices, recommendable restaurants, maps of all cities with the Camino, as well as the hotel location pilgrim's passport, practical descriptions, service phone numbers and more that will make your walk along the Camino the experience of a lifetime!
More information on Santiago - Muxia
Detailed itinerary
Detailed itinerary (view all days )
Day 1.
- Arrival to Santiago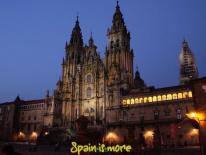 Night in a beautiful central hotel.
Day 2.
- Santiago de Compostela - Negreira
20 Km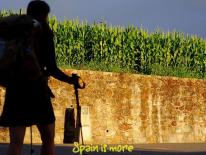 Soon after Santiago you will find yourself in green and slightly hilly surroundings. This stage runs through vast forests and rural terrain
Distance: 20 Km
Day 3.
- Negreira - Olveiroa
33 Km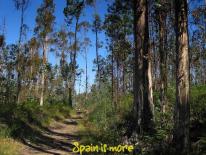 Negreira - Olveiroa (33 km/20.5 miles): It is a relatively hilly stage through the vast forests and idyllic countryside. You will spend the night in an authentic and cosy stone village.

This stage can be divided into two stages if it seems too long – alternatively, you can take a taxi for approximately the first 7 km (about €10 - paid directly to the driver).
Distance: 33 Km
Day 4.
- Olveiroa - Cee
21 Km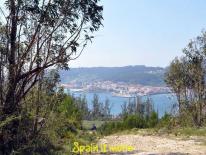 In this stage, you reach the coast, the white beaches and what Galicia is famous for throughout Spain, fish and seafood.

Cee is a cosy fishing village with many good restaurants and a charming harbour. From Cee, you can take a boat trip (at an extra cost) through the fjord to see the magnificent coastline from a distance.
Distance: 21 Km
Day 5.
- Cee - Cape Finisterre
17 Km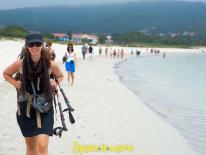 (17 km/10 miles):
The ultimate pilgrim destination. Finisterre village is about 3 km from the lighthouse (Cape Finisterre).

Despite its fame, Finisterre is a very peaceful and not particularly touristy village, which largely speaks in its favour. It is, in many ways, a natural place to end a pilgrimage, among the rugged and raw nature, or sandy beaches, depending on the weather.
Distance: 17 Km
Day 6.
- Finisterre - Muxia
28 Km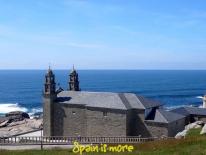 On the journey along the stunning west coast, the pilgrim experiences a great proximity to Galicia's many pristine areas. You almost get the feeling that you are the first lucky tourist in the world to experience this coastline. It is a great hike or bike-tour.

Muxia, the end of this stage, is known for its church, which is so close to the water and the rugged rocky coast that it is often showered by the waves. The beauty of the location is remarkable.
Stage can be divided in two.
Distance: 28 Km
Day 7.
- Bus Muxia - Santiago de Compostela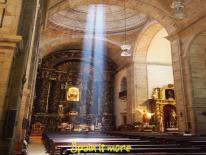 Night in Santiago de Compostela - the same hotel as the first day.
Day 8.
- Departure from Santiago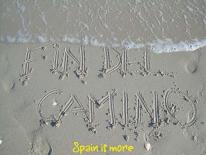 What is included in this trip?
From 445 EUR/pers. Per person in a double room.
Single room supplement:170 EUR
It includes
7 nights in a double room - always with private bath/toilet.
7 x breakfast.
Pilgrim Passport / Credencial - see conditions under 'NOTE' above.
The price includes 1 Spain-is-More-Travel Guidebook per every 4 travellers. More copies can be purchased when booking for 20€ per copy, or 30 euros per copy if the request is less than 6 weeks prior to departure.
24/7 emergency telephone number.
Taxes.
Not included
Some short local bus or taxi journeys, e.g. from airport to bus or train station in the same city.
Transport from Muxia to Santiago. Bus timetable included in guidebook.
Optional
Personalise your Camino: Extended stays, divide stages, transportation to startingpoint from anywhere in the world and back. Please ask us, we will be happy to assist you.
Baggage Transport on the pilgrim route can be purchased. If you buy a luggage service your bag / suitcase will be transported from hotel to hotel on the scheduled days of hiking. Price 45 €/unit of max 20 kg.
The price include 1 Spain-is-More-Travel Guidebook per every 4 travellers. More copies can be purchased when booking (20€/copy).
Cancellation insurence: 6% of total price (can be added when ordering).